The ASUS ROG Zephyrus G15 is one of ROG's upper end product line of gaming laptops, and for the coming year there's a slew of new models featuring newer CPU generation from Intel and AMD, and well as they're not (yet as of writing) available in the market, let's take a look and review at the 2022 refresh of the ROG Zephyrus G15.
Disclaimer: This unit is my personal laptop. I bought this to let me blog on the go, be able to do some other work – programming or media; and some light gaming.
ROG Zephyrus G15 (2022) Unit Specs
The ROG Zephyrus G15 (GA503) I got sports a Ryzen 7 6800HS, a NVIDIA RTX 3060 discrete GPU, 16GB of DDR5 4800 RAM (8GB soldered onto the board and one upgradable slot with 8GB RAM), 1TB of M.2 NVME PCIe Gen4 SSD, WiFi 6E and Bluetooth 5.2, and finally it runs on Windows 11. Unlike the Zephyrus G14, which has the updated ROG Nebula panel technology, it has an 1440p IPS Panel with 165Hz Refresh Rate, but still has the 100% DCI-P3 color space. This is not the top end variant as you can see. However, the older G15 model (2021) had a Ryzen 7 5800HS equivalent. How does it differ?
The Ryzen 7 6800HS is a Zen3+ based APU designed for notebook use. It is also the first set of Ryzen APUs sporting the newer Radeon 680m Graphics, which in turn is based off of RDNA2 graphics architecture. On paper it says it will perform better than the last version of Radeon Graphics for mobile or Vega on board video on desktop APUs.
Inclusions
The entire package comes in a large shipping box. This contains a ROG backpack, and another box for the Zephyrus G15 (GA503). Now, within the Black and White laptop box is the ROG Zephyrus G15 Laptop, a 100W Adapter with USB Type C plug, a 200W Adapter with a round plug typical of laptop adapters. Finally, a ROG Strix Impact mouse is included.
Look and Feel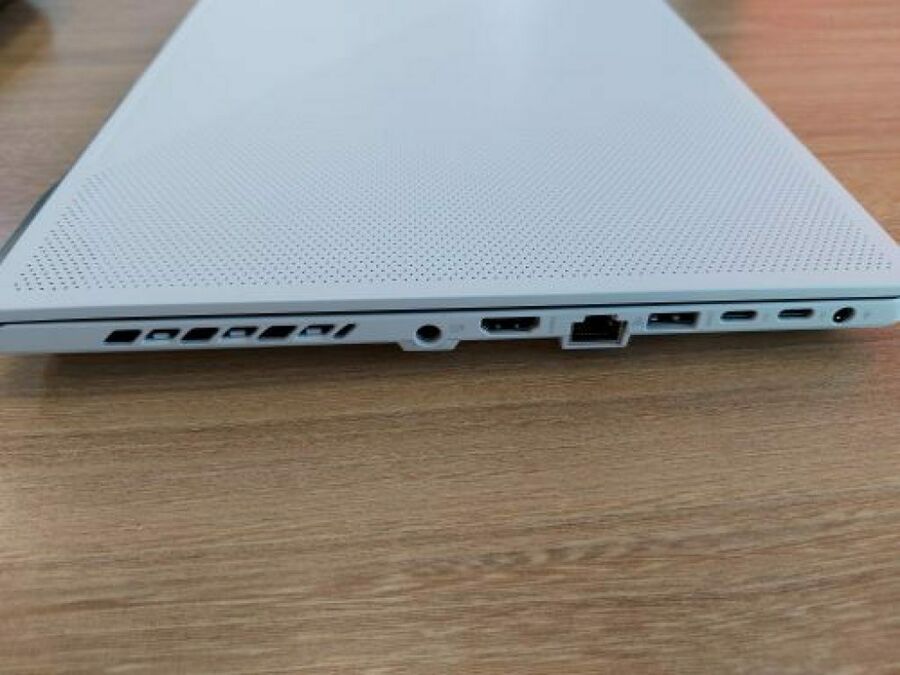 Like how car companies keep the same design of their vehicle models for several years, the ROG Zephyrus G15 for 2022 retains the same design as its 2021 predecessor. Hence the ports found on the 2021 model are also found in this laptop like the 2x USB Type-A, 2x USB Type-C (Display Port capable), HDMI 2.1, Micro SD card slot, RJ45 port (a must for me since I need a laptop to directly connect to my home Fiber modem in-case I need to check something).
Features Carried Over to 2022 Model
Like the 2021 model, there are a lot of exhaust vents in the ROG Zephyrus G15, this ensures airflow exhausting out of the laptop at all times, may it be during Silent mode, Performance Mode or even Turbo Mode in Armoury Crate. One worrying thing is the setup of the rear exhaust is being blocked by majority of the cover/base of the monitor. Heat does stick to the plastic and could loosen the adhesive for it. I shall see in the long run how it goes.
Keyboard's the same chiclet style with RGB backlighting. I find the subtle lighting ok, just providing enough illumination. For the typing feel, it reminds me a lot of Lenovo's ThinkPad keys, having the right amount of resistance when typing, compared to laptops I've previously used. The keycaps of the laptop's keyboard is made out of ABS, which has the propensity to wear out quickly. A silicon keyboard protector is a must and I've already installed one. Just make sure the protector fits the G15 keyboard.
Changes for the 2022 Model
Now, the major difference with the 2022 model is the inclusion of an onboard webcam. It has a 720p IR camera installed onboard the laptop's thin bezel. Its primary purpose is for Windows Hello. I do find the quality of the camera image enough for doing video calls, not for looking good on a stream however, so getting a separate cameral for streaming your handsome/beautiful mug will be a recommended option. Other big difference is the CPU lineup for 2022. Equipped on this model is the latest (as of 2022) AMD Ryzen 7 6800HS. Against the 2021 model, the 6800HS has a higher clock speed at 3.2GHz base and 4.7GHz max boost (more on this in the later section). But most striking is the change of onboard graphics. Instead of the Vega 8 Radeon graphics that seemed to be a permanent fixture for several generations now; AMD has updated it with the latest RDNA 2 graphics architecture.
Software Management: Armoury Crate
Armoury Crate is improved for this model, having a much-improved configuration for its MUX switch. This expands the old selection to replacing the old On/Off MUX switch and MSHybrid switch on the app with an improved Optimized Mode which has a finer control on when to switch on the RTX 3060 GPU, and Ultimate Mode which overclocks the GPU to ROG's preferred setting. Eco Mode is best used if prolonged use of the ROG Zephyrus G15's batteries is needed as it stops the use of background apps that use the RTX 3060 and locking the machine to only use Radeon 680M graphics.
Overclocking modes
We can also set different power setting modes for overclocking the CPU and GPU, along with a fan curve for cooling. The Silent power setting will keep the clocks at a very base speed for CPU and GPU (also depends on which GPU mode selected too). The Fan curve in Silent is tuned for a very silent operation, and temperatures reaching around 60 degrees internally based on my observation using Armoury Crate's readings. The next is Performance, which does boost the CPU and GPU up a notch, but by no means maxing it out. The Fan curve has it fully spinning at a lower temperature and thermal reporting does give me a higher max temp of somewhere in the region of 80+ degrees. Now, Turbo Setting overclocks the CPU and GPU to ROG's recommended maximum, and have a more aggressive fan curve, hitting the maximum fan speed at temperatures of around 70deg and having a maximum temp at around 92+ degrees. This particular setting isn't selectable when initially using Standard or Optimized GPU when first starting, it will unlock once we switched to Ultimate. Finally, there's also a Manual power setting, with Armoury Crate allowing us to max out the CPU, GPU and Fan curves to our heart's content. ROG does warn us of haphazardly overclocking, so better be careful with doing custom manual overclocks.
Aura Lighting and Wallpaper
Another feature that I have been using from Armoury Crate is the animated wallpaper (however the AniMe Matrix is only available on the smaller G14 model). It utilizes the discrete GPU to run and we will get a prompt to turn it off once it's running on battery. The animated wallpaper serves as the main Aura lighting source aside from the keyboard's RGB lights.
Audio Features
The ROG Zephyrus G15 also has two-way AI Noise Cancelation included. This feature filters out unwanted noise from your microphone and conversely it also filters out background noise of the output audio. However, I tended more to using the Microphone modes more, as I use the Cardoid mode to focus on my voice.
For the speakers, it has six speakers making it immersive, and has Dolby Atmos support already installed in Windows. Output is boosted and can be heard in an environment with a generally busy ambient noise.
Performance Benchmarks: Gaming
For benchmarks, I'll be going the usual run of 3DMark using the dedicated GPU on power and try out its mobile variant. Also will be doing a PCMark10 for productivity. As for games, since I'm targeting a lighter load, I'll be going with Genshin Impact, Forza Horizon 5, and Cyberpunk 2077 just to test out its Ray Tracing capability.
A Word: Radeon 680m, Replacement to the Radeon Vega 8
Before I jump to the actual results. I tried gaming on the Radeon 680M onboard graphics. ASUS made it such that I could not set the VRAM in the BIOS to anything other than 512MB. I tried it with Genshin, Forza Horizon 5, and Kingdom Hearts 1.5 (Epic Games), while all of them can start the game, Forza Horizon 5 does throw a curveball with a notice that while I can bypass the VRAM warning at the start; the game does eventually crash, either in menu or during the benchmark's race countdown. My belief is, is that since there's an onboard discrete GPU, it's better to let it handle games that consume higher VRAM. Also, expect more future laptops running Ryzen 6000 series for mobile (or 7000 series should they be released) to have better onboard graphics performance than 5000 series and earlier.
Update 04/23: I have taken some more time working with the Zephyrus G15 using the battery while on the road and fiddled more with the Radeon 680M GPU. Suffice to say, I was able to get the 680M to use more shared memory (2GB at most now) and got Forza Horizon 5 to run without crashing (1080p Medium Preset with FSR 2.1 on Performance). I'll be updating this space later with results.
RTX 3060 Discrete GPU
As for gaming with the RTX 3060 discrete GPU, performance tended to be lower than my desktop's RTX 3060 for Forza Horizon 5 and Cyberpunk 2077. It's mostly slight changes to the chip making the RTX 3060 for mobile more energy efficient. The more noticeable difference is the 6GB VRAM of the laptop version, versus the 12GB VRAM of the original Desktop RTX 3060.
Caveat: ONLY when I set the performance settings to Ultimate GPU Mode and Turbo Power Setting (active only when Ultimate GPU Mode is enabled but can be selected after the initial toggle) I was able to get more out of the CPU and GPU; at the cost of higher temp and fan noise.
Genshin Impact
Genshin Impact's a mobile game ported over to the PC. Settings only give us a fixed framerate selection, hence the max frames it can give by the game is 60fps. For my benchmark, I manually overrode the graphics setting through Windows to use the onboard Radeon 680M. This is one of the few games I have that will require less than or equal to 512MB of VRAM.
| | |
| --- | --- |
| | AVG FPS |
| Eco GPU / Silent Mode | 30 (fixed) |
| Optimized / Performance Mode | 60 (fixed) |
As seen, when running with the 680M, the framerate is fixed to 30fps, while if switched to Optimized (using the RTX 3060), it tops at the maximum 60fps rate. As it's a mobile port, then the performance getting pegged to having no option to use uncapped frame rates is a given. This is also exhibited in other console to PC ports like Kingdom Hearts that I've installed. Battery life gaming with the 680M nets me 2 hours before I am notified of a low battery status.
Forza Horizon 5
Another "on-the-go" game I have for the ROG Zephyrus G15 (2022) is Forza Horizon 5, for quick races or just doing random driving in the game's virtual Mexico world map. As mentioned, I tried running it with the Radeon 680M but alas, the locked VRAM causes it to crash randomly. Hence the benchmarks I've runare all on the RTX 3060 GPU using Optimized/Performance and Ultimate/Turbo.
1440p Ultra Settings
| | |
| --- | --- |
| | AVG FPS |
| Optimized GPU / Performance Mode | 51 |
| Ultimate / Turbo Mode | 54 |
1440p High Settings
| | |
| --- | --- |
| | AVG FPS |
| Optimized GPU / Performance Mode | 83 |
| Ultimate / Turbo Mode | 88 |
Forza Horizon 5 can be quite a resource hungry game, which shows. And given the RTX 3060 for mobile devices is not the same GPU found in desktop models, there's around a 30fps difference comparing the 1440p Ultra Settings between the laptop and the benchmark results I have on the ASUS ROG Z790 (using a RTX 3060) last year. While the average frames is below 60FPS, I didn't see any kind of stuttering as I found with the Z790 and its paired CPUs (Intel i5), which means the Ryzen 7 6800HS handles well and certainly doesn't bottleneck the game.
Cyberpunk 2077
Cyberpunk 2077 is one of the triple A titles that fully takes advantage of any PC's hardware. And with the recent upsurge in its popularity thanks to massive fixes and improvements plus its Netflix adaptation, there are more people playing it. How will the ROG Zephyrus G15 RTX 3060 fare?
1440p Custom Settings (Ultra Settings / DLSS OFF)
| | |
| --- | --- |
| | AVG FPS |
| Optimized GPU / Performance Mode | 35.23 |
| Ultimate / Turbo Mode | 42.13 |
1440p Custom Settings (High Settings / DLSS OFF)
| | |
| --- | --- |
| | AVG FPS |
| Optimized GPU / Performance Mode | 38.25 |
| Ultimate / Turbo Mode | 46.83 |
1440p Custom Settings (Medium Settings / DLSS OFF)
| | |
| --- | --- |
| | AVG FPS |
| Optimized GPU / Performance Mode | 44.03 |
| Ultimate / Turbo Mode | 53.40 |
1440p Custom Settings (Ultra Settings / DLSS ON: Performance)
| | |
| --- | --- |
| | AVG FPS |
| Optimized GPU / Performance Mode | 60.68 |
| Ultimate / Turbo Mode | 70.96 |
1440p Custom Settings (High Settings / DLSS ON: Performance)
| | |
| --- | --- |
| | AVG FPS |
| Optimized GPU / Performance Mode | 71.58 |
| Ultimate / Turbo Mode | 87.88 |
1440p Custom Settings (Medium / DLSS ON: Performance)
| | |
| --- | --- |
| | AVG FPS |
| Optimized GPU / Performance Mode | 81.59 |
| Ultimate / Turbo Mode | 95.09 |
Comparing the 1440p Ultra Settings benchmark between the G15 and my Z790 desktop build from last year, the average FPS is similar. This could result in improvements with the game or driver updates between November and March of this year to
If you're really looking to get some higher than 60FPS with this laptop without relying on Ultimate GPU and Turbo Power Setting, then leveraging NVIDIA's DLSS will surely help. You can play around the settings some more to get a happy medium on graphics quality and high frames. With Medium Settings and Performance DLSS on a smaller laptop screen, the smudging or blurring of some graphical assets due to DLSS isn't noticeable.
1440p RTX: Low (Ultra Settings / DLSS ON: Performance)
Well, by now we know that turning on RTX will drop the FPS, hence this test runs on RTX while at the same time leverages NVIDIA's DLSS feature. There's a slight impact but, unlike what I've noticed on an Ryzen 5 or Intel Core i5, there weren't noticeable stuttering.
| | |
| --- | --- |
| | AVG FPS |
| Optimized GPU / Performance Mode | 52.18 |
| Ultimate / Turbo Mode | 57.67 |
Performance Benchmarks: TimeSpy
Performance Benchmarks: PC Mark 10
PC Mark 10 is an old application I have that is used for benchmarking a PC for basic office tasks, and then some. The benchmark performs simulations of running video conferences, working with the browser, writing documents and spreadsheets to running 3D renders. It's a straightforward test that tests the overall capability of the CPU. Now given there are several states the laptop is configured, I've run this test when it's on battery (Silent Power Settings), and plugged in. While plugged in, I've differentiated two m:ore tests, one with the Optimized GPU and Performance setting, while the other run was made with the Ultimate GPU and Turbo Power Setting switched on.
| | |
| --- | --- |
| | Score |
| Optimized GPU / Silent | 4364 |
| Optimized GPU / Performance | 6822 |
| Ultimate GPU / Turbo | 7072 |
With these results, the Ultimate GPU Mode and Turbo Power Setting delivers a 7000+ benchmark score. However, the gap isn't that much when compared to the Optimized GPU and Performance power setting combination. And when looking at the individual runs, some test did score higher in the Optimized GPU/Performance setting.
Summary and Thoughts
Similar to how automobile companies release refreshed versions of their models after a year or so, the ASUS ROG Zephyrus G15 follows the same flow, keep the same look, but upgrade the internal workings, and then throw in some discounts. Treat it as an encore for this particular design/release of the Zephyrus G15, ending on a higher note with improvements that lets it perform well.
Users have the flexibility to select a preset configuration of overclocking power settings and on demand GPU selection thanks to the MUX Switch and ROG power profiles. It will certainly allow for a longer battery life for on-the-go tasks and better performance when sitting down on a long gaming session (using the 200W power adapter of course). For my taste, leaving it on Optimized GPU and Performance power setting assures me of a good balance on cooling, and performance with flexibility of switching between GPUs if I'm battery or on power.
The ROG Zephyrus G15 (GA503) I got was priced at Php 10,000 less than its intended SRP (and if there are stocks still higher discounts). At Php 129,995.00, it's not a bad proposition, as it's already available in stock at the store I bought, not requiring me to wait several days for it to arrive if purchased online. Its specifications definitely tick the boxes of my requirements for a laptop that can be taken out to trips and do work, and some gaming.