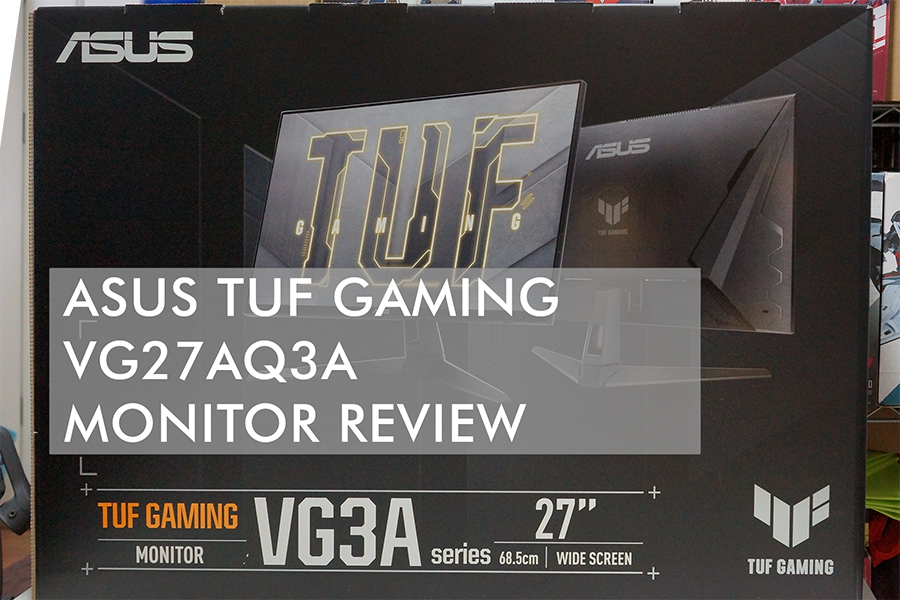 ASUS recently released their TUF Gaming VG3A series of Gaming Monitors. As mentioned in the press release, there are an initial three monitor models made available. Of these, ASUS has been kind to send in the top-of-the-line model of the three: TUF Gaming VG27AQ3A. This particular model offers a 27″ screen, 1440p resolution, a Fast-IPS panel, G-Sync compatibility, a native 180Hz refresh rate and HDR. It's set to effectively replace the much older TUF Gaming VG27AQ1A (2020) monitor, which offers the same features, except for the much slower 170Hz* refresh (by turning on screen overclocking). Let us see what other things that set this new model apart from the old model, and why ASUS was able to lower the price, which is set at an SRP of Php 17,840** and is currently exclusively available at PC Express.
Writer's Notes: I own a TUF Gaming VG27AQL1A as my primary display and I will be able to do a comparative analysis between the two. The main difference between the VG27AQL1A and VG27AQ1A is the inclusion of an ergonomic stand for the VG27AQL1A and a DisplayHDR 400 Certification (a wider brightness range when HDR is used). But as a direct comparison (without bringing in the HDR certification), we can substitute this monitor for the TUF Gaming VG27AQ1A.
TUF Gaming VG27AQA3A Package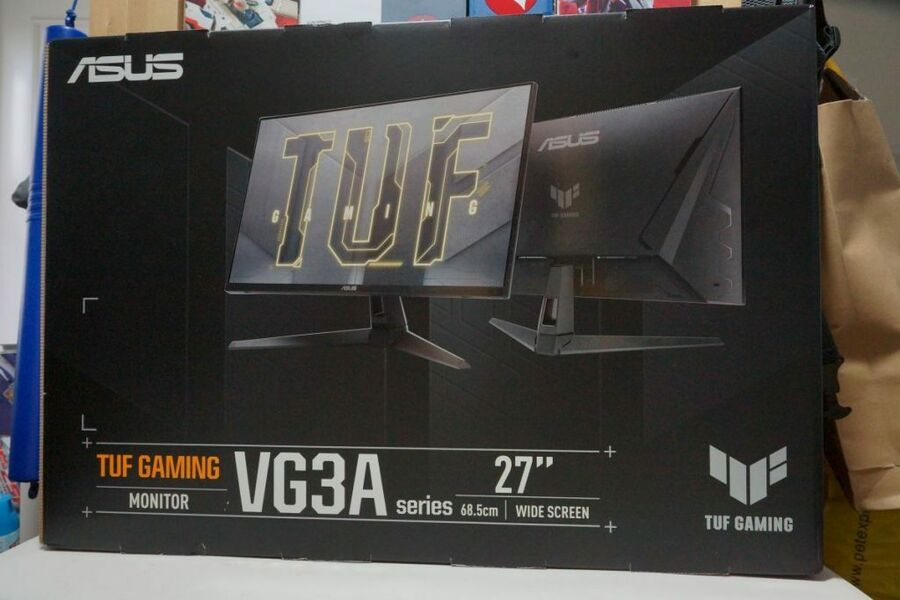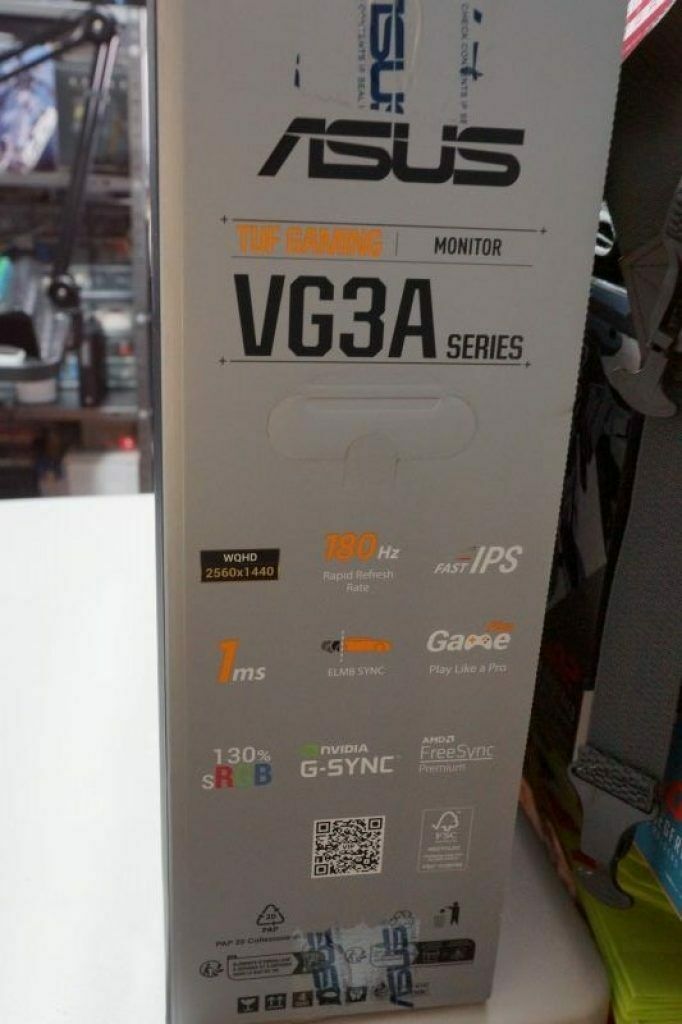 The TUF Gaming VG27AQA3A comes in a durable TUF Gaming branded box. What's included inside:
TUF Gaming VG27AQ3A Monitor
Monitor Stand
65W Power Brick
Quick Setup Manual
Warranty Guide
HDMI 2.0 Cable
Display Port Cable
TUF Gaming VG27AQ3A Design
Now, comparing this with the TUF Gaming VG27AQL1A's box, the VG27AQ3A is half the thickness and weight. This is due to the model not using an ergonomic design stand like the VG27AQL1A's (or AQL1A for short), making it for a more compact package. Whilst the VG27AQ3A's base has limited movement, it has a VESA mount and can be mounted on monitor arm mount stands or buy a 2nd hand (or unused) AQL1A ergonomic stand if anyone's selling. But if you're adamant of getting a TUF Gaming VGA3 monitor with this kind of stand, then probably wait for the TUF Gaming VG27AQL3A to be available locally.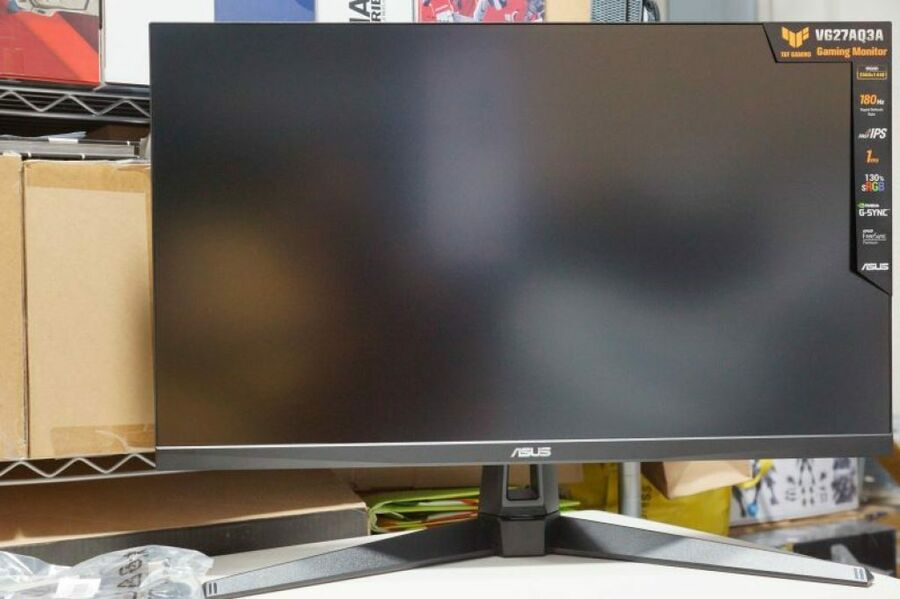 Going back to the included monitor stand, while it is not an ergonomic stand, it still does its purpose of ensuring the monitor stays stable on the desk. There are no wobbling issues with this base. Unlike the more entry-level, non TUF Gaming model from ASUS, the VP249QGR, which has a wobbly base, we are assured that the TUF Gaming VG27AQ3A monitor's stay standing and firmly secured on our desks. A subtle feature of the included base is the passthrough hole for cable management.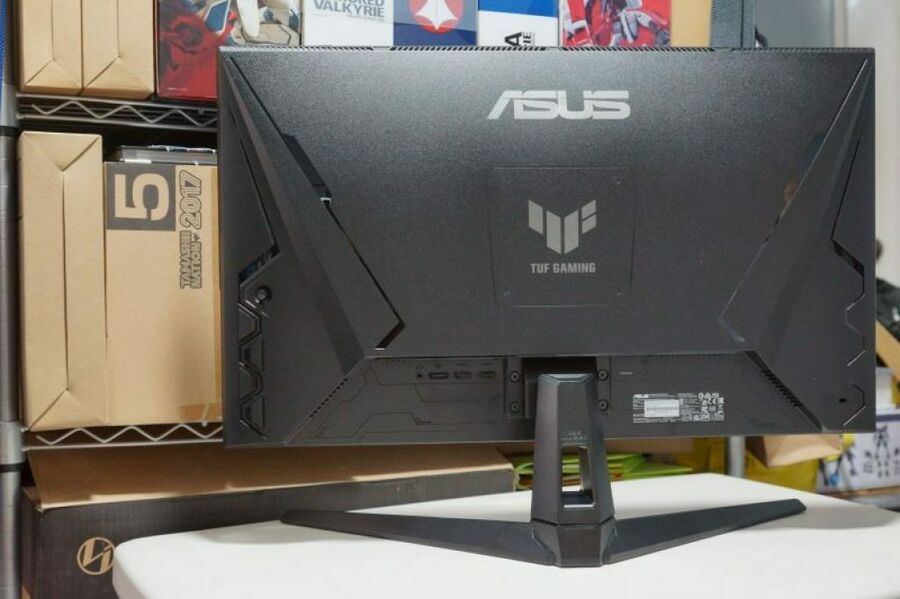 Both the AQL1A and the VG27AQ3A (AQ3A) sport the same number of HDMI and Display Port sockets, but with the AQ3A supporting the newer DisplayPort 1.4 specification. Another difference lies with their USB ports, with the AQ3A only having one USB port vs 2 for the AQL1A. Monitor hardware controls are the same configuration, with a mini joystick for controlling the monitor's onboard menu. Also gone is the pair of 2W stereo speakers. It's a good change, as they don't offer much in a way of having nice audio. It still does have the good old 3.5mm headphone jack that can be used by better sounding headphones or speakers.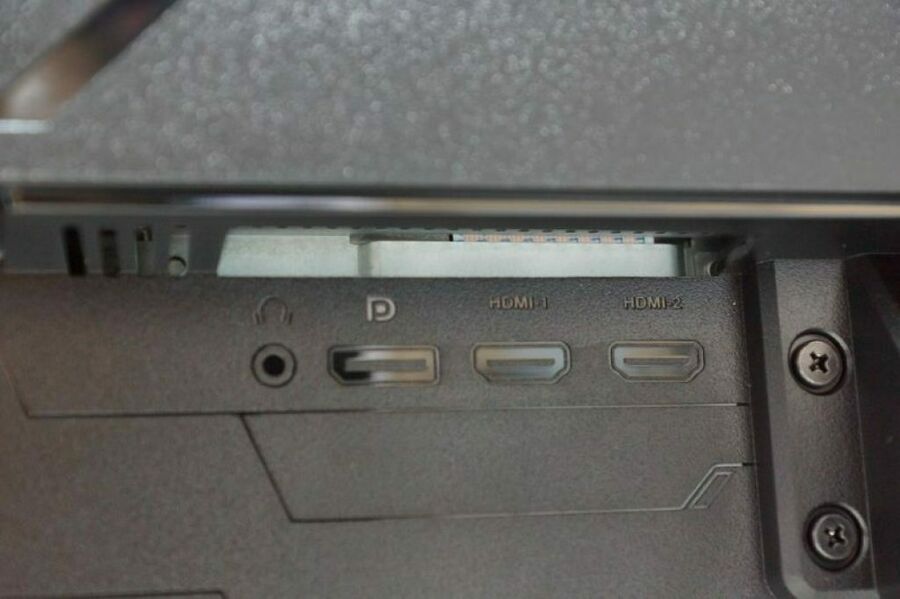 For the OSD menu, the TUF Gaming VG27AQ3A retains the same user interface menu structure as the older generation TUF Gaming monitors. We have the TUF Gaming main menu list for Overdrive, ELMB, Adaptive-Sync and GamePlus/GameVisual features. But in this generation, it sports the newer TUF Gaming Logo and having the correct color branding which is a blend of orange yellow. The VG27AQL1A has a blueish user interface, which is opposite of the TUF Gaming's color branding.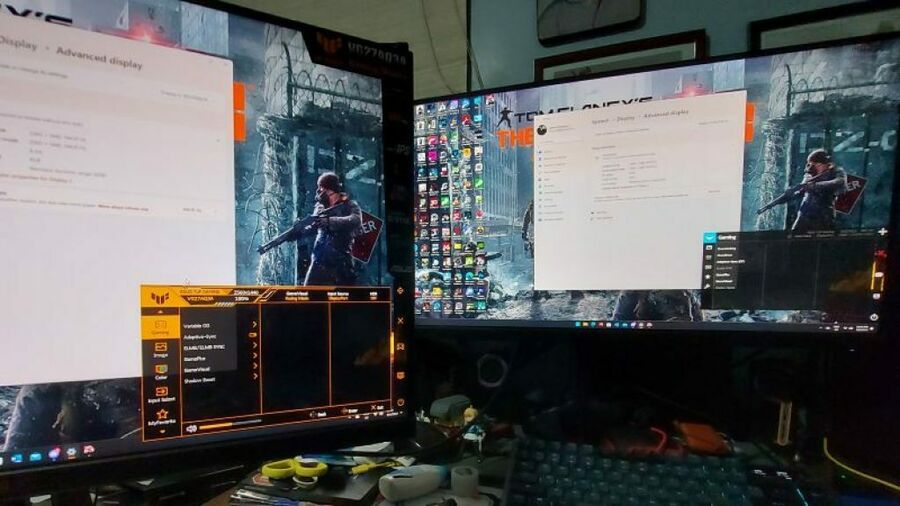 TUF Gaming VG27AQ3A Performance Test
There were two tests done for the TUF Gaming VG27AQ3A. The first is a solo monitor test checking how the new monitor's panel holds up to monitor quality tests, as well as checking it out on Blur Busters' UFOTest. This ran through a battery of tests that checks on screen blurring based on a general pixel speed of 960 pixels per second. To simply put, the lesser the degree of blurring noticed while running, the better the performance of the panel.
The test machines used (first is for baseline single monitor gaming) are:
CPU: AMD Ryzen 5 7600
Motherboard: ASRock PG Riptide B650M
Memory: Kingston Fury Renegade 32GB DDR5 7200MTS
Storage: ADATA Legend 850 Lite 1TB
Graphics: Intel Arc A750 8GB
Power Supply: Seasonic Prime Gold GX850
Cooling: DeepCool LT520 All-in-One Liquid Cooler
And for the Dual Monitor setup tests:
CPU: Intel Core i5 12600KF
Motherboard: ASUS ROG Strix Z790A D4
Memory: Kingston Fury Beast 32GB DDR4 3600
Storage: Kingston NV2 1TB
Graphics: PNY XLR8 RTX 3080 10GB LHR
Power Supply: DeepCool PQ850M Gold
Cooling: DeepCool ASSASSIN IV
Ghosting/Screen Tearing Tests
Review Notes: Photos taken are only indicative of the test made and should not be used as a reference of the actual observations found. A certain test configuration needs to be applied in order to capture the actual output as observed by our eyes. While the guide does a cheaper alternative, it still requires funding to procure the camera rail and ample practice for camera tracking. Hence, resulting photos or screen captures may end up differently (inverted) vs what was actually seen.
For the UFO Test, there's a scant trace of blurring with 180Hz, it has a little bit of difference between the AQL1A's 170Hz result. As a newer monitor however, the AQ3A allows for the user to quickly set the screen refresh rate to 180Hz right off the bat from Windows. The AQL1A however needs the user to open up the monitor's menu and turn on the monitor's overclocking mode to switch to 170Hz, as it is not a native setting. At the native maximum of 144Hz for the AQL1A, the difference is much more obvious, but still 144Hz is still pretty much more useable than that of a 60Hz monitor.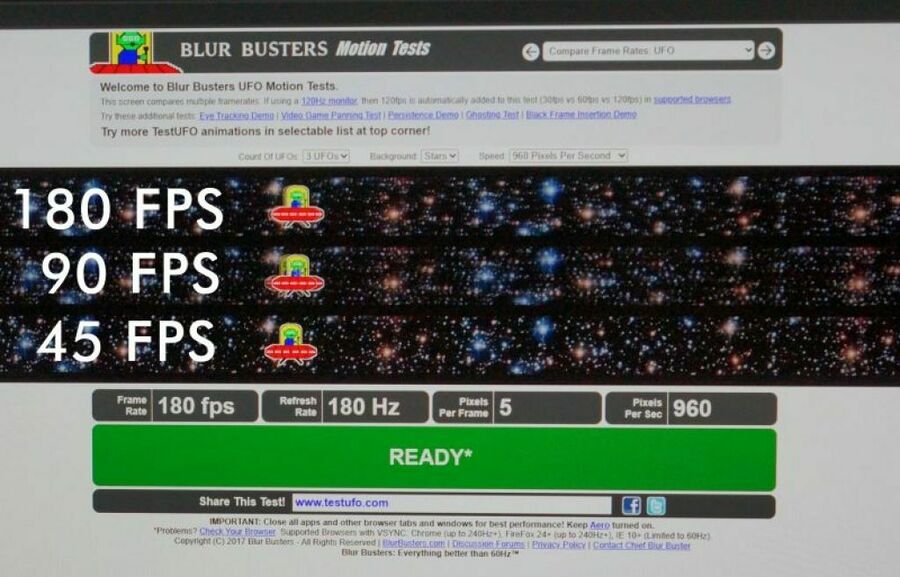 For the Video Game scrolling test, which simulates a player scrolling through a map in the game of DOTA, unit names (text) are much more legible than when running at 144Hz. And the Persistence of Vision Test the image that is being scrolled behind the vertical bars are much clearer and less pixelated. This is more so better than the AQL1A thanks to its newer Fast IPS panel, which tries to close the gap with the performance of TN panels, while keeping excellent colors while running.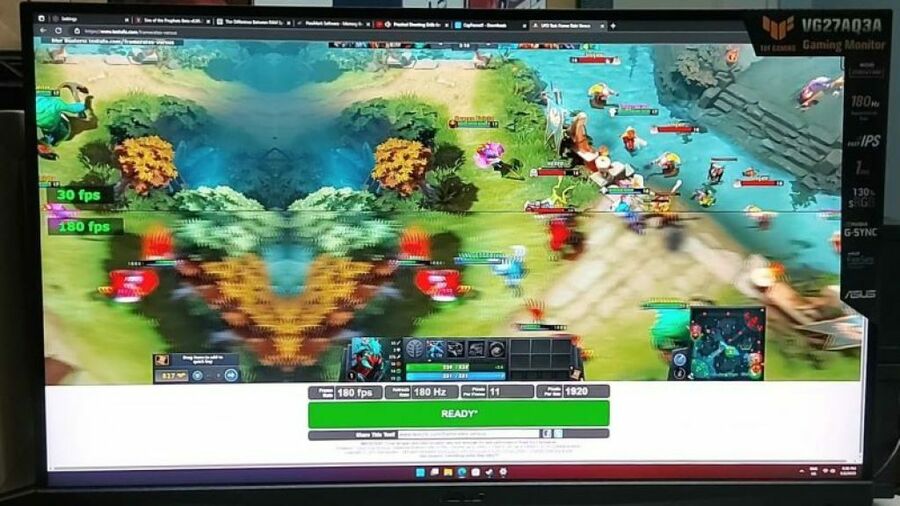 Having a higher screen refresh rate does wonders not only for gaming but also for productivity, like reading through text under UFO Test's vertical scrolling sub-test. It lessens text ghosting which aside from blue light, can cause eye strain.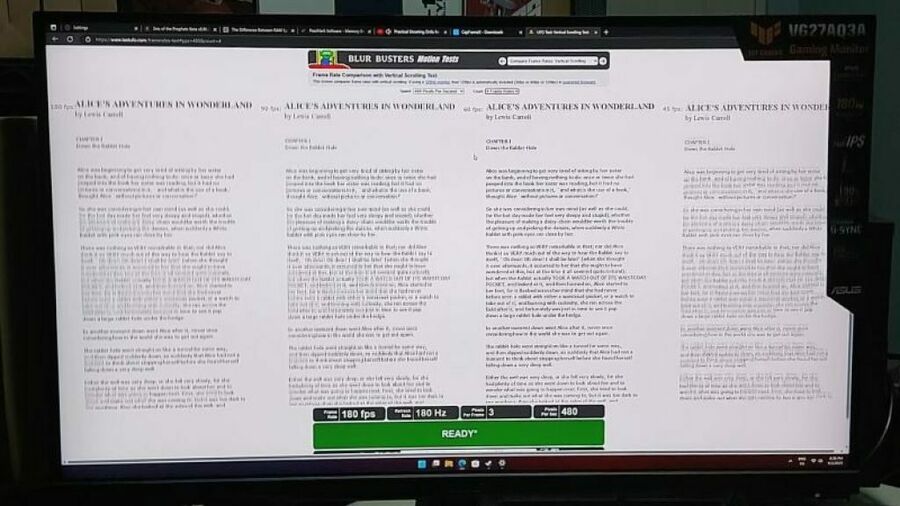 Color Tests
Color Tests cover the quality of the newer Fast IPS panel compared to the original IPS panel that TUF Gaming used for the earlier generation of gaming monitors like that of the AQL1A (and AQ1A). In this test, I've run a simple display test through the online Eizo monitor test to check mainly how colors are showing up on screen. Another test is to check how well the HDR10 capability holds when playing HDR videos from Youtube. Finally, a comparison between the older panel of the AQL1A side by side.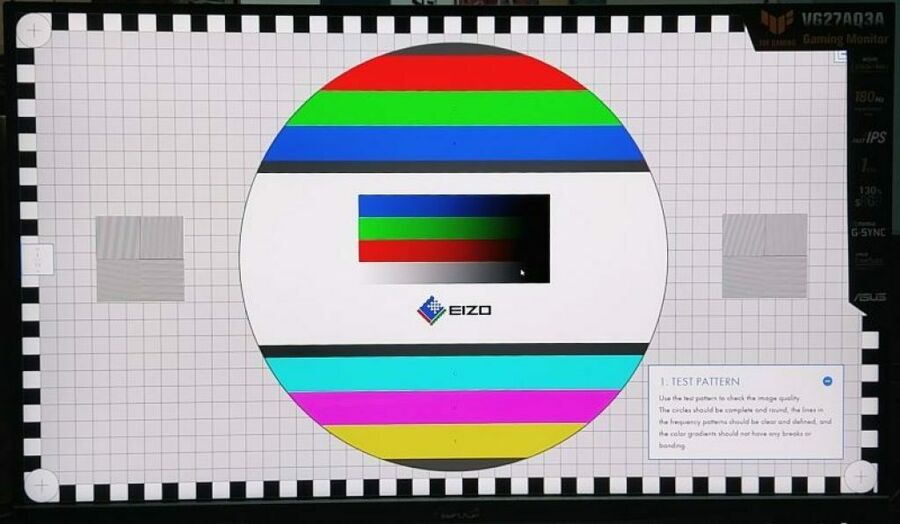 The Eizo tests show that the TUF Gaming VG27AQ3A Fast IPS panel colors that are vibrant, and rich. On the black screen test, aside as having no dead pixels (permanently turned on), there are no issues with the LED light bleeding on screen, which is a noticeable occurrence on the older VG27AQL1A. For the white screen test, there are no dead pixels (permanently turned off). RGB color tests show no anomalies with the individual red, blue and green color tests.
For the HDR test, I've moved the TUF Gaming VG27AQ3A to my other machine to do a side-by-side comparison with the VG27AQL1A. This machine is an Intel Core i5 system that runs an NVIDIA RTX 3080 10GB that will be able to handle gaming on two 1440p resolution monitors. The photos below show the TUF Gaming VG27AQ3A (left) and TUF Gaming VG27AQL1A (right) running the same video. It can be observed that while both have similar color representation, the VG27AQL1A has a brighter output due to its higher brightness range (400+ nits).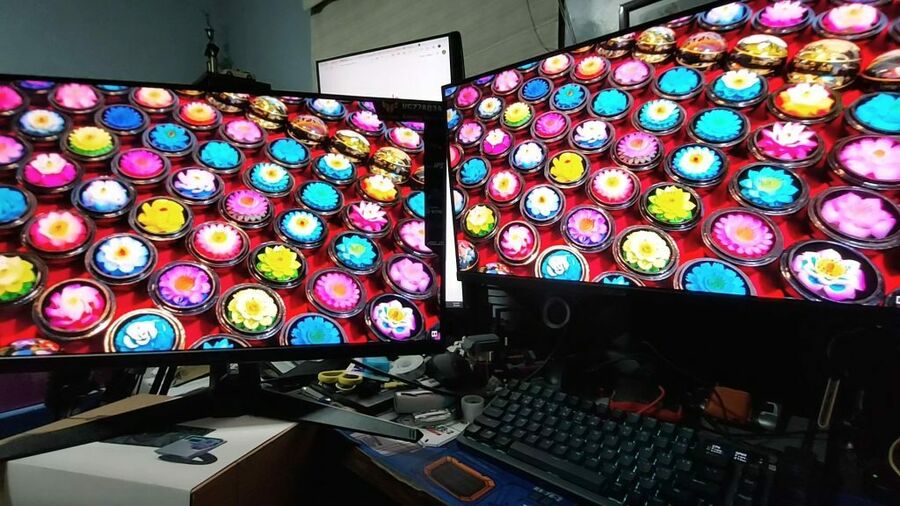 HDR is a feature carried by the upper end model TUF Gaming VG27AQ3A, its unreleased (in the Philippines) counterpart the VG27AQL3A and the older VG27AQL1A and VG27AQ1A respectively. By default, all of these monitors are HDR10 specification, however the AQL1A and AQL3A does have, according to ASUS marketing material on their product pages DisplayHDR 400 certification. This only differentiates from the HDR10 classification by the maximum brightness that the monitor achieves when HDR is turned on and has been certified by VESA.

Comparing the two monitors with an HDR video from YouTube, the difference mainly lies on the ability of the VG27AQL1A have a higher screen brightness. Otherwise, both monitors exhibit a wide gamut of colors, and blacks are all but the same as well.
And for gaming, we go back to Cyberpunk 2077 and playing at a higher 1440p resolution and Ultra settings (with motion blur turned on), gameplay's smooth thanks to the increased refresh rate that aids the higher spec RTX 3080.

Conclusion
ASUS released the TUF Gaming VG3A series as a welcome upgrade for their mainstream line of gaming monitors. The improvement of having a native 180Hz refresh rate instead of running an overclock to hit 170Hz from the older model line is better for the monitor's lifespan. Having a Fast IPS panel also helps in improving monitor performance as well, while keeping the wide color gamut that makes IPS panels great for both gaming and productivity. A bit of a bummer however is that they did not design the TUF Gaming VG27AQ3A's HDR to inherit the upper end model's (VG27AQL1A) DisplayHDR400, and completely improved the black levels as I still spotted some led light spillage. While the VG27AQL3A certify for a higher DisplayHDR rating. And for those looking for an ergonomic display stand, unfortunately this is not the model that comes with it. That's the TUF Gaming VG27AQL3A, and there's no update when it will be available here (but it looks like it's available in other countries).
Finally, there's the price. Upon reading the press release sent to me a few weeks ago, I was surprised to learn that the TUF Gaming VG3A series' SRP is lower than the TUF Gaming VG1A series when they were released back in 2020. A direct comparison of the TUF Gaming VG27AQ1A to this TUF Gaming VG27AQ3A has the older VG27AQ1A model pegged at a price around Php 26,000 in ASUS's Official Lazada Store, while this newer model has an SRP of Php 17,840, and according to my contact at ASUS, it's currently only being offered by PC Express at a lower than SRP price of 17,400. That in itself is a large savings of Php 8160. One feature that was removed that also contributed to a lower price is the removal of the 2W speakers. It definitely won't be missed as its performance as a speaker is quite bad. And having that savings could probably be put towards in another part like a better GPU, or other investments.
And for those looking to upgrade from their <24″ gaming monitor, upgrading to a 27″ 1440p resolution would make this a great deal, given how the entry price for it has dropped from its preceding model 3 years ago. But if you're one that is looking for building a dual monitor rig, then this fits the bill perfectly, as dual monitor setups would usually get to use a custom stand to give more space for other things to occupy the computer table's space. And for those asking if there's going to be a VG3A model with an ergonomic stand, as I've mentioned, there's the VG27AQL3A, but there's no word yet of its release locally. But if you're upgrading from the VG27AQ1A, you may wait on for the next iteration, as 180Hz is a small increase from the 170Hz if you're using the VG27AQ1A (or VG27AQL1A's) refresh rate through overclocking feature from the monitor's internal menu.
And that concludes the review of the ASUS TUF Gaming VG27AQ3A 180Hz 1440p Gaming Monitor
The ASUS TUF Gaming VG27AQ3A is a Worthy Follow Up to the VG27AQxA line of TUF Gaming Monitors
With a surprising drop in price, native 180Hz Screen Refresh and improved Fast IPS Panel (and still retaining its vibrant color), the TUF Gaming VG27AQ3A is able to continue to prove the TUF Gaming monitors are great and push higher refresh rates for mid-tier 1440p gaming.
PROS
Lower SRP than its predecessor.
180Hz Refresh rate is native. There's no need to overclock the monitor through its on-board menu.
Fast IPS Panel improves Moving Picture Response Time (MPRT).
Tinny 2W speakers has been removed. Lightening the monitor and contributed to a lower price.
CONS
HDR, while providing ample range of colors, does lack improvements in its range of brightness, which could have been an inheritance from its DisplayHDR400 predecessor.
Light spillage was much better controlled, but there are still some spots having minor backlight bleeding.
Add your review
|
Read reviews and comments