The Cherry Mobile Snap was the first Android Smartphone I have reviewed with a retail price under Php 2,000.00. For this entry, I am going to talk about my experience with the Jade, another entry-level Android smartphone from the top local mobile phone brand.

SPECIFICATIONS:
OS: Android 4.2 (Jellybean)
Processor: 1 GHz MTK Dual-Core processor
Display: 320 x 480 pixels, 3.5" HVGA Capacitive Touch Panel
Wireless Connections: EDGE, Bluetooth 3.0, WiFi 802.11 b/g/n
Memory: 512MB ROM, MicroSD up to 16GB, 256 MB RAM
Connectors: Micro USB port
Camera: 3.0 Megapixels (Main), VGA (Front)
SIM Card Slot: 2x Regular SIM required
Battery: 1,300 mAh
SRP: Php 1,999.00
Availability: Cherry Mobile Concept Stores and Kiosks, Mobile Phone Shops
THE UNBOXING OF THE JADE
Nothing much to see here except for the usual accessories and user manual. However, if you buy this unit until December 31, you can get a SIM holder freebie. I don't know exactly what that is, but at least there's a freebie, right?
LOOKS LIKE A FEATURE PHONE
When this was shown to me without the packaging, I mistook it for an old Cherry Mobile touchscreen phone model with TV functionality. Upon booting up the phone did I realize that the phone is running on Android 4.2 Jellybean. I also noticed that the screen looks brighter and better than the Snap
Holding the Jade is like holding the Snap, only glossy this time. If you're kinda OC, you will be forced to wipe the smudges off the black glossy body of the Jade.
PERFORMANCE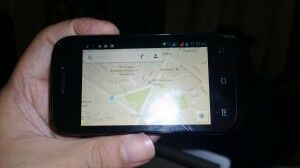 Let me read the Jade's specifications again: 1 GHz Dual-Core Processor… Wow! This phone is on Dual-Core already? That should be great, right? It should, however, reality started to sink in during my usage of the Jade. Within my first day of usage I already got the warning sign that my memory is almost full and I need to delete some applications. Well, since it is an entry-level Android phone, it is expected to have 512MB of ROM and 256MB of RAM which is not enough for my kind of usage.
So I deleted my other apps and went on using it. My experience of using the Jade is more pleasant than the Snap. Moving from one app to another is more fluid than the other phone even when the memory is full. No problems in making and receiving calls on both SIM Card slots though I find it a bit hard to text with its onscreen keyboard since I have fat thumbs.
I tried playing a few casual games and they were fine, but unfortunately I had difficulty installing Temple Run 2 and I was not able to play that. Videos from my MicroSD card were playable but not that smooth.
CAMERA
The camera of the Cherry Mobile Jade is pretty ok for its price. 3 Megapixels is certainly better than my experience with the Snap. Here are some samples:
BATTERY
I complained about the battery of the Snap which only had a rating of 1,100 mAh. The Jade has a little bit more at 1,300 mAh which is not too much of a difference. Nevertheless, the additional 200 mAh on the Jade's battery is still a welcome addition. With heavy use on social media, web-browsing, viewing YouTube videos and of several phone calls, the average battery of the Jade lasted around 6-7 hours on an average. Less heavy usage gave me around 3 hours more before conking out.
BOTTOMLINE
A dual-core powered smartphone with a price tag of Php 1,999.00 will definitely attract a lot of people. But since the Cherry Mobile Jade has  limited specs like internal storage and memory, it clearly sends a message that it is being sold as an entry-level phone and it is not meant for power-users like me.
I think newbies will like the Jade. In fact, I recommend buying the Jade over the Snap. For Php 300 more, you'll get a faster processor, better camera and an Android Jellybean mobile operating system.
LIKES:
Android Jellybean Smartphone for only Php 1,999.00
Dual-Core Processor
3 Megapixel Camera
DISLIKES:
Low Internal Storage
Low RAM