HIKSEMI is a sibling brand to HKVISION, a brand well known locally for selling high-tech surveillance cameras, and this company focuses on developing and creating storage solutions. In this review, I'll be looking into their new product, the HKSEMI Future 1TB M.2 PCIE Gen4 solid state drive. I'll cover its
HIKSEMI Future 1TB M.2 Specifications
The HIKSEMI Future M.2 PCIE Gen4 SSD has the following features: Maxio Flash Controller, 3D NAND Flash and Graphene heat spreader. Detailed Specifications of the Future 1TB model are as follows:
Model
FUTURE Series
Capacity
1024GB
Form Factor
M.2 2280
Maximum Sequential Read
7450 MB/s
Maximum Sequential Write
6600MB/s
Maximum Random 4k Read (IOPS)
860K
Maximum Random 4k Write (IOPS)
670K
Maximum Power Consumption
3.92W
Terabytes Written (TBW)
1800TB
Mean Time Between Failures
2,000,000 hours
Storage Medium
3D TLC
Interface
PCIe Gen4x4
Working Temperature
0 °C ~ 70 °C
Storage Temperature
-40 °C ~ 85 °C
Function
AES-256/SM4/TCG-Opal 2.0/IEEE1667
Third-generation Agile ECC technology (4K LDPC), end-to-end data protection
RAID5 & 6
Warranty
5 years
Weight
≤7 g
Review: Package, Physical Appearance
The Future SSD comes in a box, with the product name, product image, storage size, and maximum read speed (7450MB/s) in front and other information in the rear. The drive itself is enclosed in a re-sealable plastic blister package. Included inside is a quick start guide and packet of m.2 screw and a screwdriver. While a small addition, it is a good thing as sometimes there are cases wherein motherboards lack a screw or for new builders, its proper sized screwdriver.
The HIKSEMI Future 1TB comes in M.2 2280 form factor, which is a common size that can fit majority of motherboards or consoles (except for the Steam Deck, which uses the short M.2 2230 form factor). The drive is single sided, with the controller and 3D NAND Flash on the top portion of the drive. The flash memory and controller chip are covered by a graphene heat spreader that provides a wider area for heat to dissipate.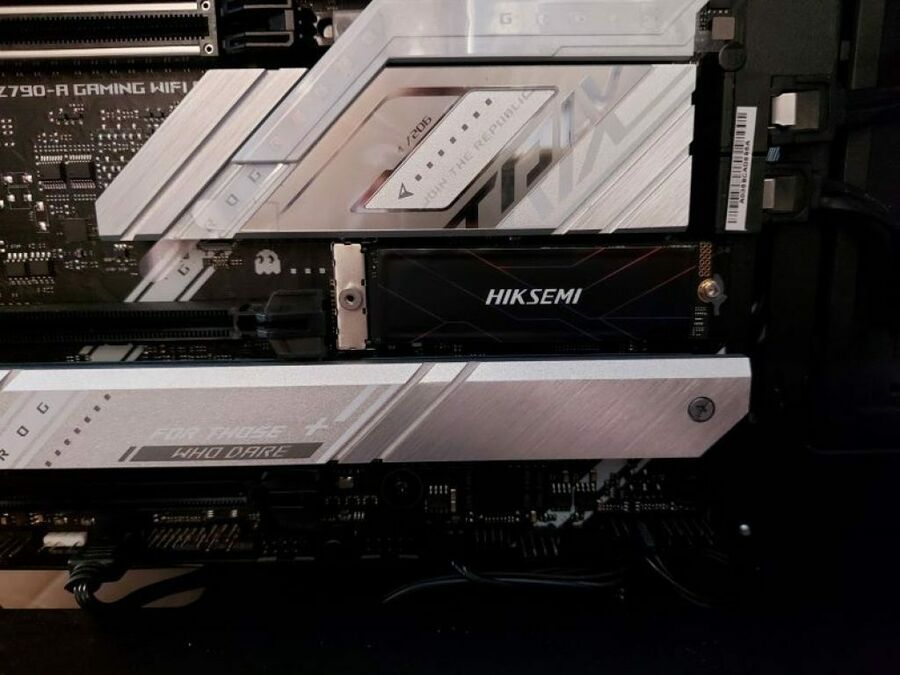 The black color of the drive's heat spreader makes it less noticeable and blends well with most motherboards today. Finally, the bottom of the SSD is bare, save for the branding of the M.2 drive, which is normally seen on the top section, as printed out on the heat spreader of the SSD or on a sticker.
Review: Performance
In this section, I will go through several tests of the M.2 storage drive: Read/Write Speed Test, Loading Times Test, and File Transfer Test. The HIKSEMI 1TB PCIE Gen4 drive will be compared against Kingston NV1 (PCIE Gen3) and NV2 (PCIE Gen4) drives.
Crystal Disk Mark
HIKSEMI conducted its own benchmark to see how well the Future M.2 SSD performs with Crystal Mark 6.2 and got the following result. This was performed on an Intel Core i5-6500 CPU, with a ROG STRIX Z390E Gaming motherboard and 32GB of RAM.
The results show that the drive can pull off more than the 7450MB/s sequential read speed, and 6600MB/s sequential write speed. However, we can factor in: quality of the controller and NAND Flash memory used for that test, and that's aside from CPU performance. I should be expecting a figure somewhere close, or a mix of within 10% of the maximum results from this.
For my benchmark, I've used Crystal Disk Mark 6.0.2 and the newer Crystal Disk Mark 8.0.4 (6.2 has more random 4Kb tests than sequential). For hardware, I'm using the newer Intel Core i5-12600KF, ROG STRIX Z790A D4 Gaming motherboard, and 32GB of DDR4 3600MHz RAM.
The results from version 6.0.2 show a sequential read speed of 7049MB/s and sequential write speed of 6583MB/s. I can say performance closely matches the rated maximum read and write speeds. Now, the other runs: 4kb q32t1 random read/write and 4kb q1t1 show an even better performance from the drive. Results from version 8.0.4 shows an even similar outcome (albeit the 6.0.2 version has more randomized 4Kb tests than sequential tests in 8.0.4), but it performs really well.
With the budget Kingston NV1 and NV2 M.2 SSDs, the results pretty much show how big the performance gap is in Crystal Disk Mark, even if the Kingston NV2 is a PCIE Gen4 SSD. We'll cover more real world testing next with loading times and file transfers.
Another thing to note is the drive has roughly the same temperature without the heatsink of the motherboard compared to the Kingston drives that have the solid metal motherboard SSD heatsink. On a longer duration stress test, I did notice that the Future 1TB's temperature rose up to 50 degrees Celsius, which can be remedied by attaching the motherboard's SSD heatsink.
Loading Times Test
To keep things simple, I'm using Ghost Recon Wildlands and Cyberpunk 2077 for testing out loading times. The test involves fast travelling from two safe areas in the map in Ghost Recon, while loading from a save for Cyberpunk. I used a stopwatch on my phone to time the loads.
| | | |
| --- | --- | --- |
| | Kingston NV2 1TB | HIKSEMI Future 1TB |
| Loading Times for Ghost Recon Wildlands | 17.02s | 12.98s |
| Loading Times for Cyberpunk 2077 | 5.3s | 3.7s |
There's more than 4 seconds difference between the two drives on Ghost Recon, while there's 2.4 seconds difference in Cyberpunk 2077. This is a real-world test, hence actual transfer speeds can differ from synthetic benchmark tests like Crystal Disk Mark. But again, the clear winner is the Future 1TB SSD.
File Transfer Test
For the last test, I simulate a transfer of a game from one of my drives to either the HIKSEMI Future 1TB drive or the Kingston NV2 1TB drive. The game for this test is Assassin's Creed Valhalla, having the largest install size currently in my PC. I timed the folder transfer through the Windows Clock App by hitting the stopwatch button after pressing Ctrl+V on the drive folder. Here are the results:
Again, the Future outperforms the NV2 drive, however; the gap between the two drive's transfer time was only around 3s. This can be explained due to the limitation of the source drive, which is one of my PCIE Gen3 drives, however; the HIKSEMI Future edged out with roughly 140MB/s faster write speed than the Kingston.
I tried copying a video recording from my Game Recording drive (SATA 6 HDD) to see how the two drives differ from each other when it comes to writing content from a hard disk. Here are the results: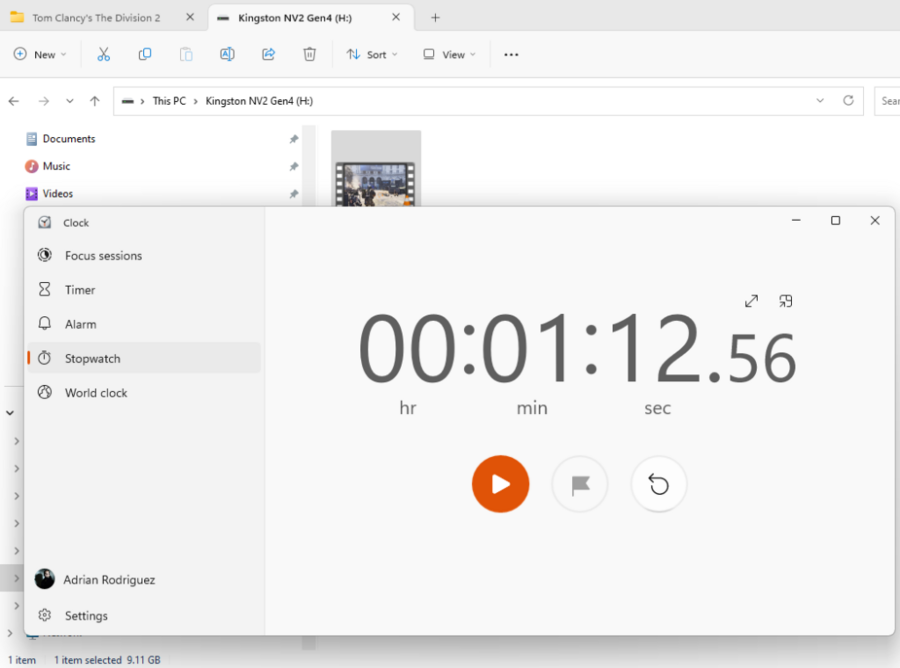 The Kingston NV1 had a slow start compared to the HIKSEMI Future, and both topped out at around 132-133MB/s write speed due to the limitation of SATA 6 technology. But, the HIKSEMI had a better start and ending up with a second faster transfer (having a higher burst write speed).
Summary
The HIKSEMI Future's performance as a PCIE Gen4 drive is great. It has the speed and price** that can sway builders to spend a little more for this compared to a budget PCIE Gen4 drive, rather than spend more (or double/triple) on contemporary brand names like Kingston Fury, WD_Black, etc. Note: Future 1TB is currently released in Thailand, with price converted to roughly Php 4900 locally, at 1 Baht to 1.64 Philippine Peso exchange rate.
HIKSEMI Future Series of SSDs makes a great option when looking for a high-performance gaming drive, may it be for PC gaming, content creation or upgrading your PlayStation 5's storage. Its price if converted to Philippine currency IF it does get priced similarly to what I found overseas, would definitely be a great bargain.