PowerColor sent in their RX7600 Fighter for us to review. The RX7600, launched around the last week of May 2023, is purported to be the successor to the RX6600, a graphics card aimed for mid ranged gaming PC builds for fast 1080p gaming. Let's see how the latest generation stacks up against contemporaries of its range.
Disclaimer: This graphics card was sent in by PowerColor for review purposes.
PowerColor RX7600 Fighter Specifications
Let's take a look at the RX7600 Fighter's specifications and compare that to the predecessor: RX6600 Fighter
PowerColor RX7600 Fighter Specifications (Click to Reveal)
Core Specifications
Graphics Engine
RX 7600 8G-F
Video Memory
8GB GDDR6
Stream Processor
2048 Units
Engine Clock(OC) / Engine Clock(STD/Silent)
up to 2250MHz(Game)
up to 2655MHz(Boost)
Memory Clock
18.0 Gbps
Memory Interface
128-bit
DirectX® Support
12
Bus Standard
PCIE 4.0
Standard Display Connectors
1 x HDMI 2.1 , 3 x DisplayPort 1.4
Product Remark
'Game Clock' is the expected GPU clock when running typical gaming applications, set to typical TGP (Total Graphics Power). Actual individual game clock results may vary.
'Boost Clock' is the maximum frequency achievable on the GPU running a burstyworkload. Boost clock achievability, frequency, and sustainability will vary based on several factors, including but not limited to:thermal conditions and variation in applications and workloads.
Feature Support
OpenGL
Support
AMD Stream Technology
Support
AMD Eyefinity Technology
Support
AMD Smart Access Memory
Support
For more information, please refer AMD Website.
Maximum Resolution
VGA
n/a
DVI
n/a
DisplayPort
4096×2160
HDMI
4096×2160
Power Specs + Board Dimensions
Board Dimensions
200*111*39mm
212*129*39mm(with bracket)
Minimum System Power requirement (W)
550W
Extension Power Connector
One 8-Pin PCI Express Power Connector
Comparing this to the RX6600 Fighter with just the spec sheet alone the most noticeable difference would come in the higher engine clock. And when looking under the 'hood' or, the GPU architecture separating the two GPU models, we find that there were significant changes from RDNA2 to RDNA3. With RDNA3, AMD promises this generation's GPU architecture to have improvements with respect to Ray Tracing performance, its use of AMD's Infinity Cache and application of its chiplet design taken from AMD's CPU architecture.
Checking the RX7600 Fighter more closely. Opening up the latest version of GPU-Z provides some more information regarding Radeon RX7600 GPU.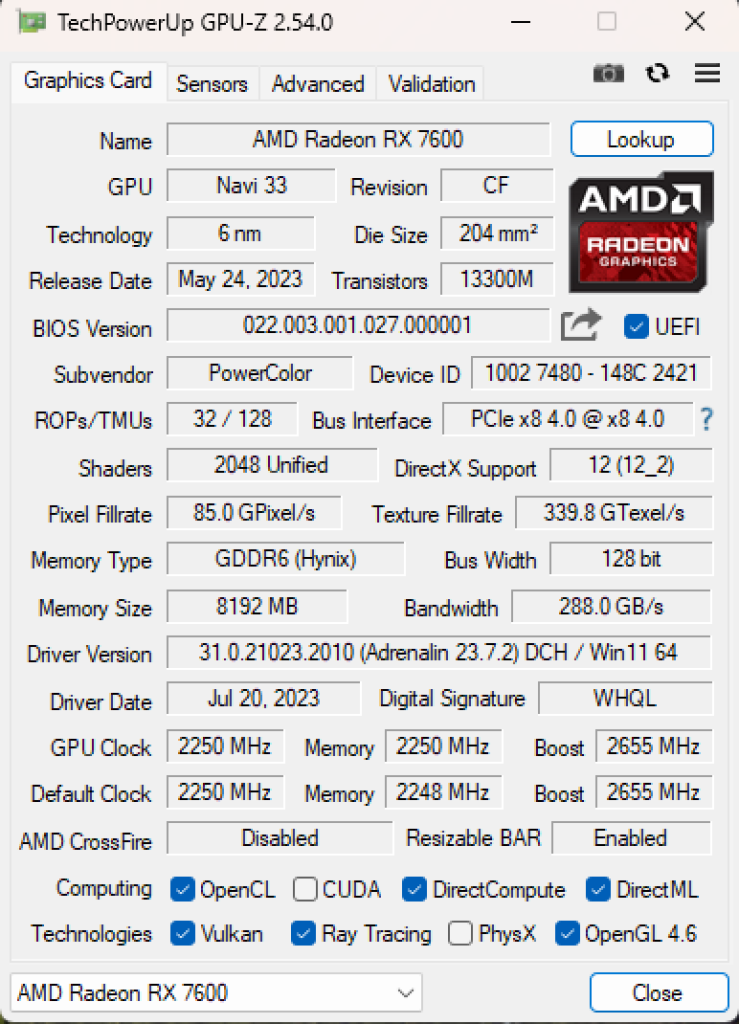 A very noticeable information here is that the Bus Interface is only running on x8 PCIE Gen 4 speed. This design certainly had people's eyebrows raised with lower tier GPUs in the last generation (ie RX6400 and RX6500). While it certainly is a problem with people who equate the x8 speed's performance to PCIE Gen 3 speeds, however when building a gaming PC, builds tend to be dictated by an owner's budget.
When building for an entry level machine, there's a tendency to opt for some to purchase 2nd hand / or used parts for budgetary reasons, and most of the parts, especially motherboards would still run on PCIE Gen 3, then the logical choice for a graphics card would be a used unit, like an RX570/580. And for those with bigger budgets, then newer parts would be the choice with PCIE Gen4 compatible, including motherboards and their graphics cards. But I digress, we'll let the benchmark test results speak for themselves.
PowerColor RX7600 Fighter Package
The PowerColor RX7600 Fighter is similarly packaged as the PowerColor RX6500XT Fighter I've reviewed. As such, the RX7600 Fighter comes in a similarly sized flip top carton box with PowerColor's Fighter branding. It did not have any kind of accessory included.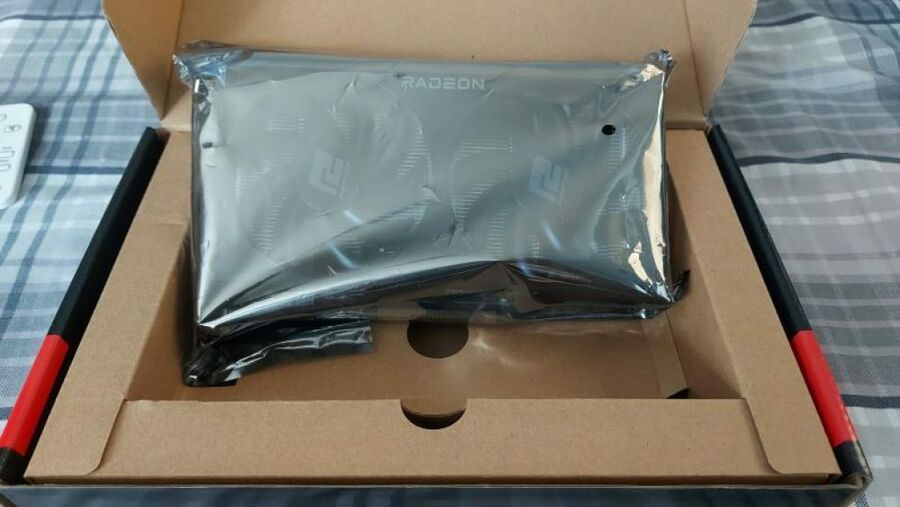 The graphics card features a shared design for its shroud with other PowerColor Fighter models. This means no RGB, perfect for no RGB builds. Compared to the RX6500 XT however, the heatsink design for the RX7600 features more heat pipes for added cooling performance. Another difference is the length of the GPU's PCB having a length that is just as long as the heatsink.
PowerColor RX7600 Fighter Test
The benchmark machine consists primarily of an Intel Core i5 12600KF CPU, an ASUS ROG STRIX Z790A motherboard, 32GB of DDR4 Kingston Fury Beast. Power supply is an 850W Gold Rated unit from DeepCool and storage is a mix of PCIe Gen4 and Gen3 drives from Kingston.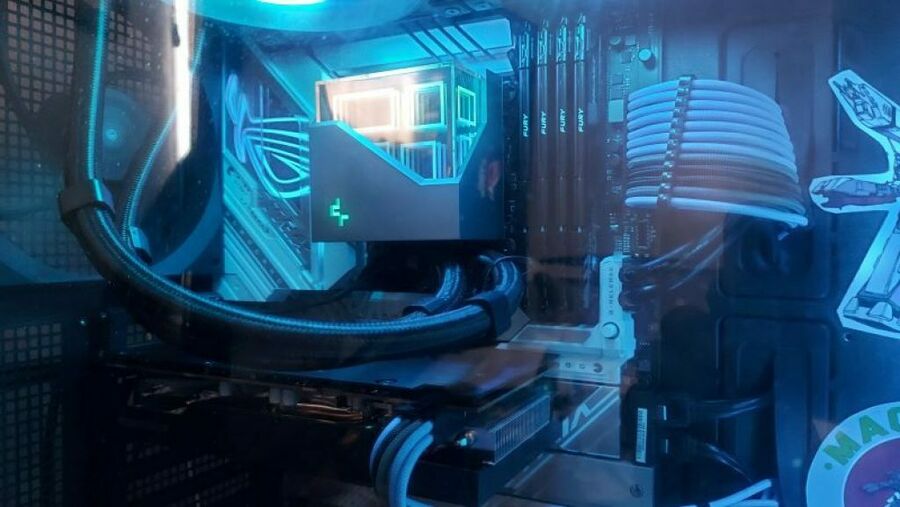 Like other GPU reviews I've previously posted, I will cover the following set of games for review: Tom Clancy's: The Division 2, Cyberpunk 2077, Shadow of the Tomb Raider, Counter Strike: Global Offensive, and Forza Horizon 5. These games use their onboard benchmarking mode, all except for The Division 2, which use CapFrameX, as the benchmark feature is locked out when I installed the RX7600. Other benchmarks performed include 3DMark suite including Time Spy, Port Royale, FSR and Speedway.
Note: I'm refining the way I present my charts to simplify generation and uploads as more and more GPUs are getting reviewed in this site. Hence, I'll be moving data recording to CapFrameX bit by bit. Also, I'm including in test results I made on the RTX 4080 and RTX 3080 for scaling.
Tom Clancy's: The Division 2
A staple in my game collection, while the game itself is now hitting four years old, the graphics is nonetheless still impressive and resource demanding. Here is the results of my benchmark using CapFrameX. To simulate the similarity of how the internal benchmark functions, I did a run from the Ellipse Fuel Depot to the White House to get a range of frame rates outside a building and inside. The game tends to drop frames heavily when outside, due to the amount of detail being loaded in the environment and moving through inside buildings tend to have lower demands on resource hence a higher frame rate. CapFrameX is able to get a record and provide me with an Average Frame Rate. I have previously tested this approach when using my Arc A750.
Comparing it with the Arc A750, there's a small difference in average frame rate. There's around a 7.4 FPS difference between the two. However, do remember that the Intel Arc A750 uses more power than the RX7600 Fighter. And comparing it to the RTX 3060, the RX7600 Fighter beats it with a rough gap of 12.7 FPS in between.
Cyberpunk 2077
Another staple thanks to the wide range of support the game has for the different GPU manufacturers, Cyberpunk 2077 allows me to fully test out the capabilities of a graphics card from basic settings to turning on Ray Tracing and each brand's own upscaling technology (DLSS for NVIDIA, FSR for AMD and XeSS for Intel). Plus, it has its own internal benchmark to run.
The results are interesting and am including results from running Ray Tracing, and Ray Tracing with upscaling technology enabled.
Running the game on ultra for either 1440p or 1080p, the RX7600 Fighter performs well against the same class of graphics cards like the RTX 3060 and Arc A750 (even if they have a full PCIE Gen 4 x16 lane utilization).
However, things drastically change when turning on Ray Tracing. Even Intel's Arc A750 outperforms the RX7600 Fighter on my run. That could be the higher lane allocation, or its bigger memory interface and bandwidth that's helping.
Shadow of the Tomb Raider
Shadow of the Tomb Raider, like Cyberpunk 2077 features graphical options that allows users to pick which upscale of choice to use. In this case however, the developers chose to stick with the FidelityFX feature called FidelityFXCAS (FidelityFX Contrast Adaptive Sharpening) and haven't released an updated version that includes the performance boosting feature FSR (FidelityFX Super Resolution). Ray Tracing configuration's limited to Ray Traced Shadows, so it's interesting to see how the RX7600 fares with this turned on. Also, SoTR features its own benchmarking feature.
As results show, the RX7600 still has a lead against both the Arc A750 and RTX 3060. However, like in Cyberpunk 2077, once Ray Tracing is turned on (Ray Traced Shadows), performance did take a hit for the RX7600 but still performed better compared to the Arc A750. FidelityFX CAS (it's not even the upscaling tech, FidelityFX Super Resolution) enabled only gave a very slight performance bump (around 0.4 FPS). For the Arc A750, the XeSS upscaling is a bust, ending up dropping the framerate rather than improving it. I ended up using FidelityFX CAS and it even gave a better increase in framerates by around 4 FPS better.
Counter Strike: Global Offensive
The benchmark test for Counter Strike: Global Offensive is a straightforward affair of running the benchmark test package for the game and get the average FPS. Since the game is decades old, settings tend to be at the highest and as an eSports title, it requires incredibly high framerates to allow for players to keep up with everything happening on screen.
For 1080p gaming, the RX7600 performs better than the Arc A750, which should also be obvious due to the ARC's GPU architecture not primarily designed for legacy APIs like DirectX9, even if the latest drivers have vastly improved performance with DirectX9. For 1440p gaming however, it swings in favor of the Arc A750 and RTX 3060.
Forza Horizon 5
Forza Horizon 5 is a racing game that was released in 2021. While it does now feature upscaling support in game (not limited to the car showroom anymore), we're only getting the performance results out of the base game graphic settings.
The RX7600 Fighter holds well against the ARC A750 and the RTX 3060, having a big lead over both in 1440p and 1080p resolutions.
3DMark Suite
Here are the results of running the 3DMark suite of benchmark tests including TimeSpy, Port Royal and Speed Way.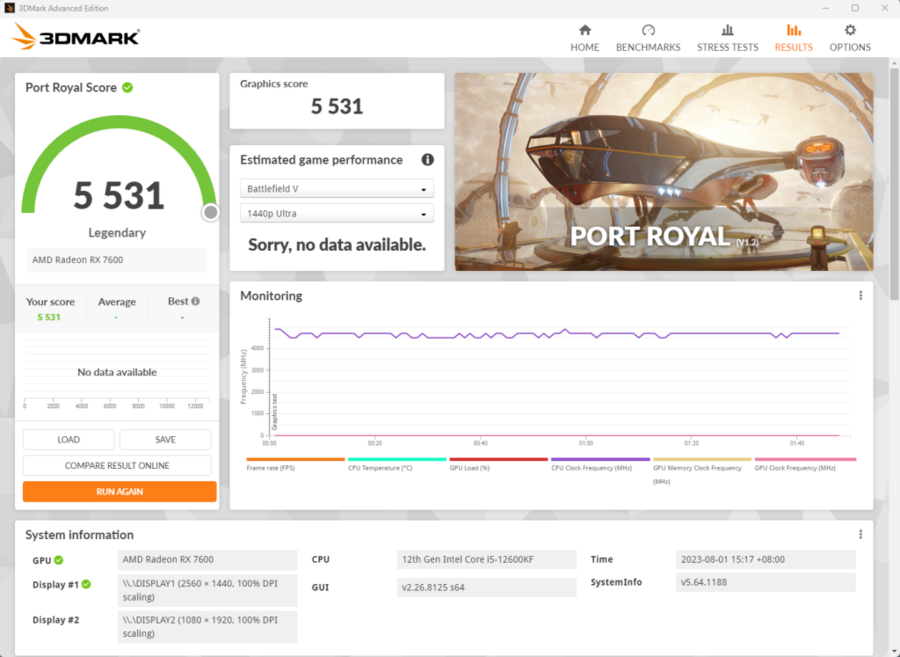 Conclusion
Results wise, the PowerColor RX7600 Fighter holds well against contemporary or older GPUs, especially when the specs say otherwise with an x8 PCIE Gen 4 lane. However, that obviously change when an older generation motherboard is used and compared to the older GPUs with full x16 lanes. So those with motherboards with PCIE Gen 3 slots will definitely not get the full speed. And as results also show, AMD still needs to catchup on Ray Tracing. But as for most gamers go, the regular non ray traced settings that are even on the highest settings perform well above 60FPS in 1080p resolution. At 1440p it still can perform well at very high or ultra settings in most games (except Cyberpunk, that is and maybe other open world games), but that can be improved by lowering the quality to high or medium.
And pricewise the PowerColor RX7600 is roughly the same price as the RX6600 it replaces (ranging from Php17,000 to Php19,000 depending on the store), which can be interpreted as a mixed bag of being good if looking at its raw performance when building a brand-new machine sporting PCIE Gen 4 motherboards. But can also be interpreted as a bad value if as a gamer looking to upgrade from an older GPU, with an equally older motherboard (if the motherboard has a PCIE Gen 3 graphics card slot).
In the end, it's up what the builder's budget can do. If building a complete machine with brand new parts, the PowerColor RX7600 Fighter is highly recommended. But if upgrading, consider how much you're willing to upgrade. If the budget's only for the GPU, probably look for an older GPU in the 2nd hand market like the RX6700 or RTX 3060 Ti or RTX 3070 (and be sure to check the legitimacy of the seller). But if you're building up with changing the CPU and motherboard (or just the motherboard for AMD AM4 sockets) and updating your graphics card from onboard or an older generation GPU like the RX570 or RX580 or GTX series, then the RX7600 will do well as an upgrade option.
The PowerColor RX7600 Fighter is a Nice Midrange Graphics Cards for New PC Builds
It has a great 1080p performance without relying on upscaling technology, especially when building with newer PC Hardware
PROS
It has the same launch price range locally as the previous generation RX6600.
Performance wise it is able to have 10-20 frames per second improvement over the older generation GPUs (RTX 3060 / ARC A750) on non-Ray Traced graphics settings.
The PowerColor Fighter series is a great pick for a no-nonsense graphics card w/o the frills of RGB lighting, but still having ample cooling and a protective backplate giving a solid construction.
CONS
The PCIe 4 x8 lane specification is good for motherboards sporting a PCIE Gen 4 slot (runs like a PCIE Gen 3 x16 GPU), but performance dips when used on older motherboards with PCIE Gen 3 slots (will run as PCIE Gen 3 x8, which is slower) if considering this GPU as an upgrade.
Poor Ray Tracing Performance as seen in Cyberpunk 2077, and compared to the older generation NVIDIA RTX 3060 12GB.
Add your review
|
Read reviews and comments