Hello everyone! Today I bring you the roundup for the Macross Toys & Kits News for June 2020.
Let's start off with the Hasegawa model kit releases.
Hasegawa 1/72 VF-11D Thunderbolt "Test Pilot School"
Earlier this month, Hasegawa released a brand new kit of a VF-11 two-seat variant, the 1/72 scale VF-11D Thunderbolt "Test Pilot School"
These VF-11 two-seat trainer variants are operated by the U.N. SPACY TEST PILOT SCHOOL, which is part of the New Edwards Air Force base on planet Eden. This is memorable for Macross fans as this is where a big part of the story of Macross Plus happened. The U.N. Spacy Test Pilot school aims to train test pilots in the proper testing of the latest Variable Fighters and and how to efficiently collect test flight data.
The paint scheme and markings are a very refreshing take on the VF-11 design. It is also in line with the paint schemes of real-world training aircraft. It gives the VF-11 a sleeker streamlined look.
This is a web-only limited kit, and is not available from the usual retail hobby stores. You can instead head on over to the Hasegawa's online shop, which is similar to the P-Bandai web shop.
Hasegawa 1/72 VF-31J Kai Hayate Custom
Another new model kit release from Hasegawa is the 1/72 VF-31J Hayate Immelman custom:
This is the VF-31J that Hayate Immelman uses in the final episode of the Macross Δ (Delta) TV series, and is a replacement of the VF-31 that he lost. This unit most notably has new black trim lines as well a Grim Reaper-like logo on the dorsal side of the aircraft. These were added in as a tribute to fellow pilot Messer Ihlefeld, who previously died in battle against Keith Aero Windermere of the Aerial Knights. It also indicates that this machine has inherited Messer's will.
Again this is a web-only limited kit, and will not be available as a regular retail item. You can purchase this item from the Hasegawa online shop.
Hasegawa Reissues
Below is a summary of the reissues from Hasegawa. Click on the individual links for more details of each item. As the links are in Japanese, you can use Google Translate or any other online translation tool for your convenience.
1/4000 SDF-1 Macross Attack Mode with Prometheus and Daedalus
1/72 VF-31F Messer/Hayate with LilDrakens (from Macross Delta Movie)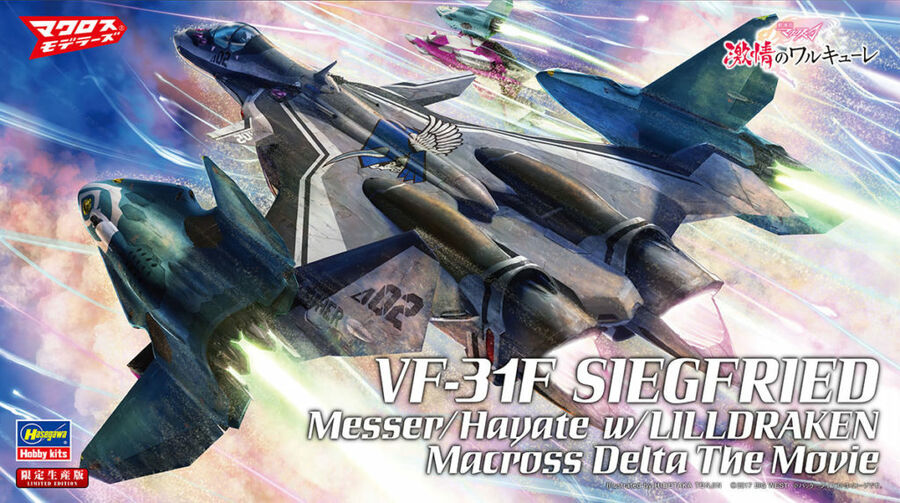 1/72 VF-31J "Freyja Wion Color"
1/48 VF-1S/A Strike/Super Valkyrie "Skull Squadron"
1/72 VF-19A "SVF-569 Lightnings" with High Maneuver Missiles
1/24 Lynn Minmay (China Dress ver.) with VF-1J Egg Plane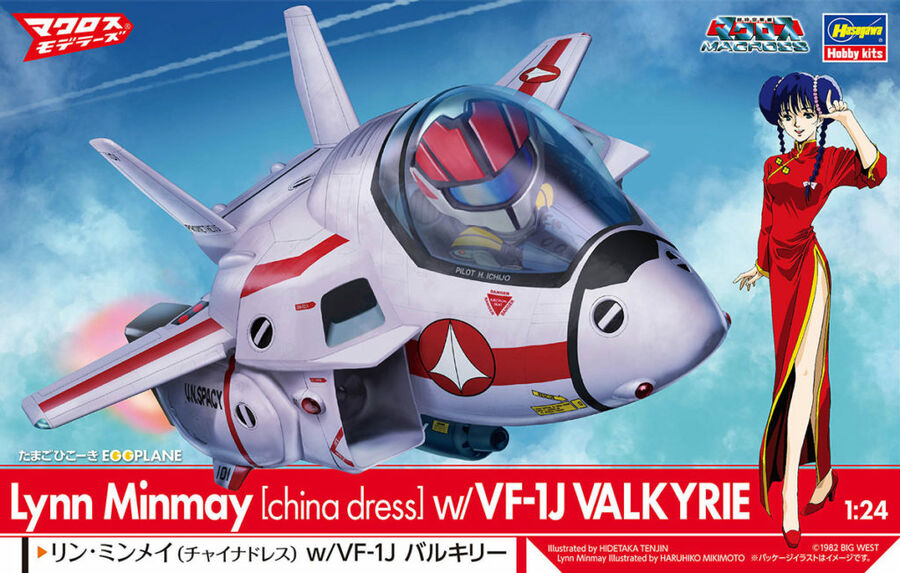 Lots of interesting reissues for Hasegawa are listed above. I have a few friends who are actually waiting on a reissue for the SDF-1 with Prometheus and Daedalus. So if you are also waiting on any of the reissues above, now is your chance!
Bandai DX Releases
Let's move on to the really big item for this edition of Macross Toys/Kits News – Bandai DX 1/48 VF-1S Roy Focker Special!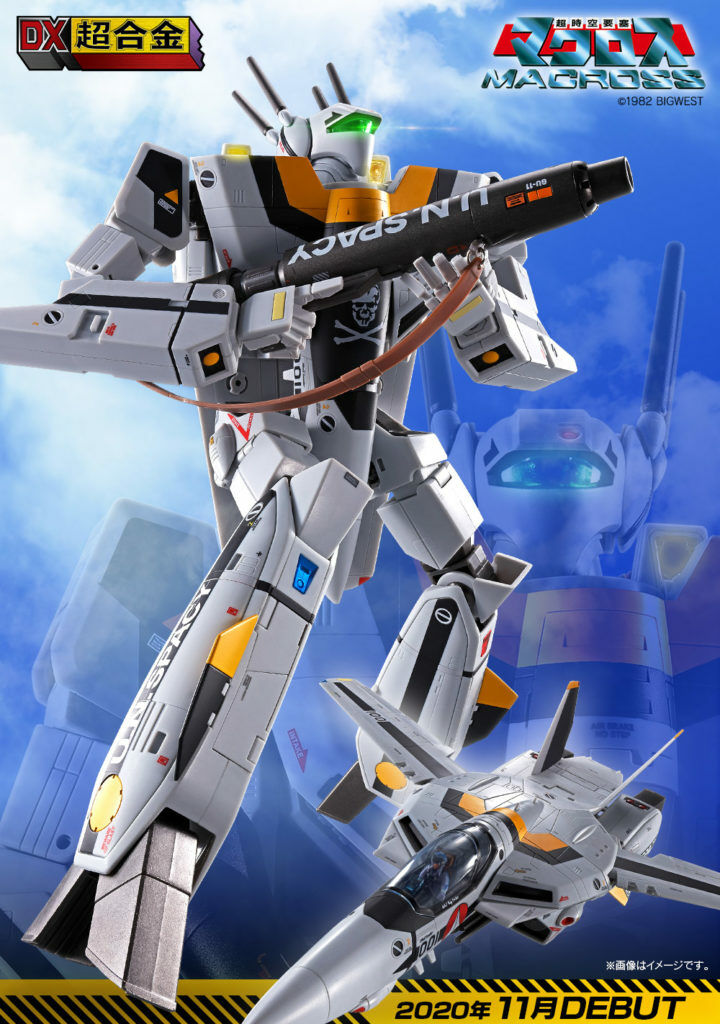 For many Macross fans, the upcoming DX VF-1S Roy Focker custom is one of THE MUST-HAVE variable fighter in any Macross toy collection. Roy Focker is the ultimate "sempai" pilot in the Macross-verse, and the VF-1S is the pinnacle of variable fighter technology during the time of the Human-Zentradi War.
The Bandai Macross DX line of toys started in the 1/60 scale and has seen a lot of iconic designs released. Most of these designs though are from the later Macross series (Plus, Frontier, Delta), and many of the fans have been clamoring for a VF-1 release to represent the classic or OG Macross series.
Then Bandai announced the DX 1/48 line, starting with Hikaru's iconic VF-1J as its first release. Other designs followed, with the TV versions of Max and Kakizaki's units also getting their debut as P-Bandai releases. The latest release from the DX 1/48 line is Hikaru's VF-1S, as it appears in the movie "Do You Remember Love?"
Bandai also previously released the VF-1 accessories, with the Strike/Super Parts (DYRL ver) set and the VF-1 Missiles set each getting a separate release:
These toys have gotten positive reviews in general, and are sold out within minutes of the start of their pre-orders.
So, how does the DX VF-1S Roy Focker custom differ from the previously released DX VF-1S Hikaru DYRL ver?
The devil is in the details: A new head sculpt!
To the casual fan or toy collector, this difference in the head sculpt may be superficial, and can not really be considered a big deal. However, details like these matter a lot to hard core Macross fans.
This is similar to how real world model kit builders are able to distinguish, say, an F-16 block 60 unit from an F-16 block 70/72 unit. As Macross is an anime that is heavily based on real-world aircraft, it is no surprise that a seemingly small change like this will also be a big point of contention between fans and collectors.
Fan service: Exclusive stand with tilt function!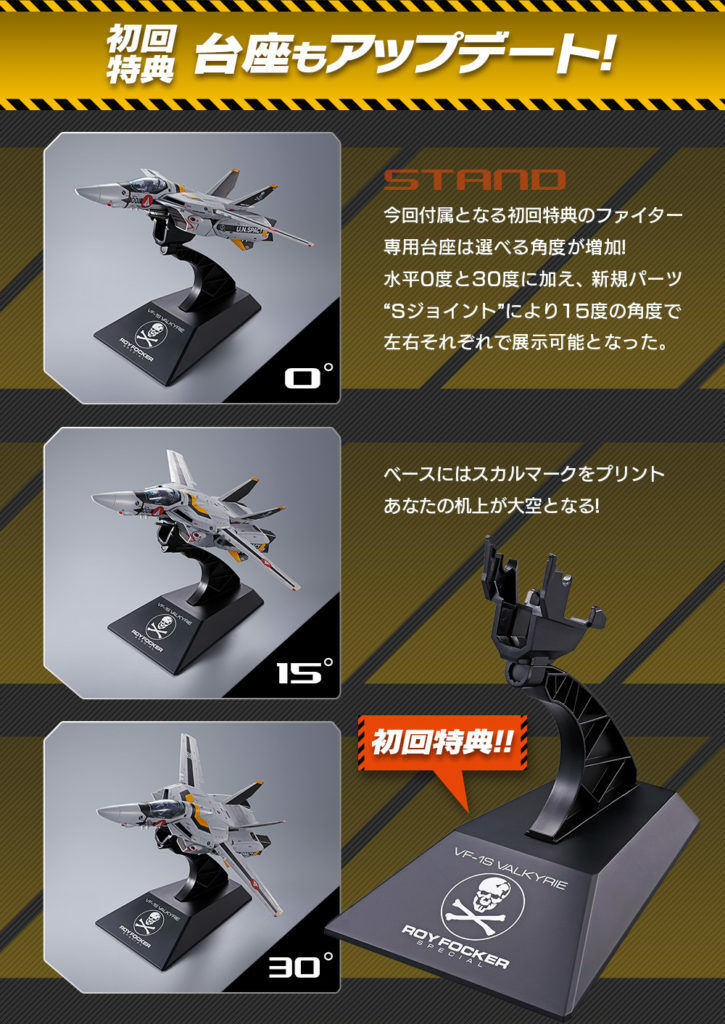 The DX VF-1S Roy Focker also comes with an exclusive stand. It has the Skull Squadron emblem printed on the base, along with the text identifying it as exclusive to Roy Focker's VF-1S. Just like the stand for the previous DX VF-1J, the clamp can be rotated to either side at the 15- or 30-degree position. This gives a nice option to display the VF-1S in fighter mode in either level flight or a banking maneuver.
Now I'm wondering whether Bandai will also release a Super Pack in the TV-style (Strike Pack only came out in DYRL). The differences are again minor, but it matters to the fans. (Images are courtesy of the Macross Mecha Manual).
And that's it for this month's edition of Macross Toys/Kits News for The Toy Cabinet! Be sure to stay tuned as we bring you more news about upcoming toys and model kits from the Super Dimensional anime, Macross!
Till then, DECULTURE!!
Product images are courtesy of Hasegawa and Bandai Tamashii websites