The smartphone market is never short of options, but today, we turn our focus to two standout devices: the Infinix Hot 30 and the realme C55.
Both of these phones are hot sellers, and in this comparison review, we'll examine what's making them so popular.
It's important to note that this comparison review isn't influenced by sponsorships or endorsements from either brand.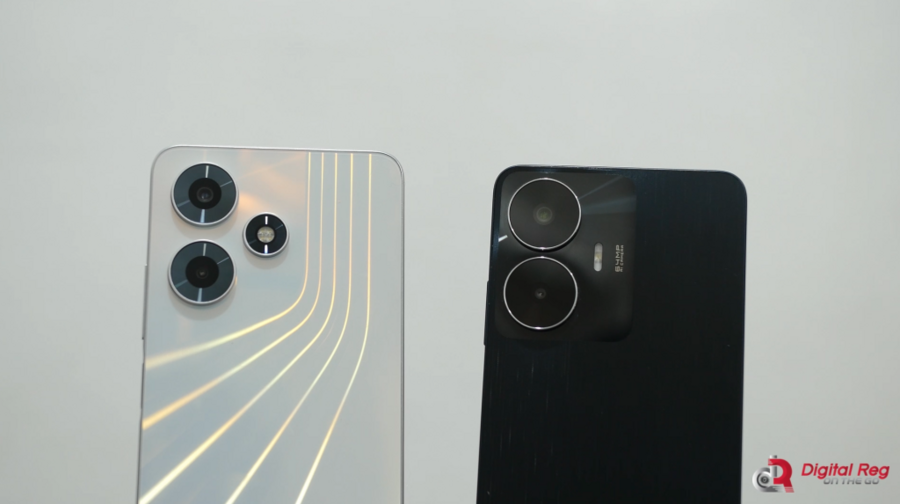 Similarities
First, let's talk about what the Infinix Hot 30 and realme C55 have in common. Both devices are equipped with the Mediatek Helio G88 chipset, 8GB of RAM, and an option for up to 8GB of extended RAM.
Storage-wise, both come with 256GB of internal storage, along with a Type C Connection and a headphone jack.
When it comes to network and OS, they offer 4G capability and are running on Android 13. The display is a 90Hz IPS FHD+ for both, although the Infinix does have a slightly larger screen at 6.78 inches.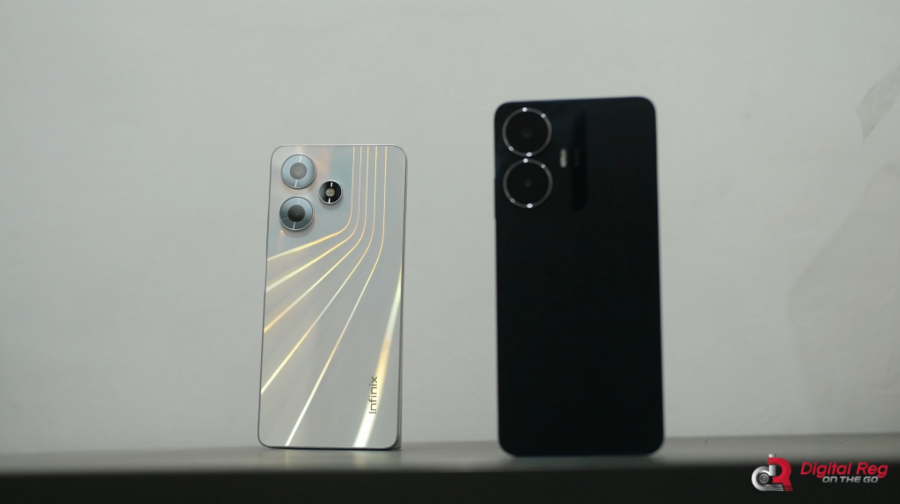 Infinix Hot 30
realme C55
8GB RAM + 8GB Extended RAM max*
MediaTek Helio G88 SoC
25GB Internal Storage
LTE 4G / 3G / 2G
6.78-inch IPS FHD+ 90Hz Display (2460 x 1080)
Type-C
Headphone Jack
8GB RAM + 8GB Extended RAM max*
MediaTek Helio G88 SoC
25GB Internal Storage
LTE 4G / 3G / 2G
6.73-inch IPS FHD+ 90Hz Display (2400 x 1080)
Type-C
Headphone Jack
Differences
Where these two phones diverge is quite interesting:
Cameras
The Infinix Hot 30 comes with dual rear cameras with 50MP plus an AI Lens and quad LED light, while the realme C55 features dual rear cameras with 64MP plus a 2MP depth sensor and a single LED flash.
Both share 8MP selfie cameras, but the Infinix includes a built-in front flash, while realme opts for a fill light feature.
Infinix Hot 30 Camera
realme C55 Camera
50MP + AI Rear Camera
Quad LED Flash
8MP Front Camera
Front LED Flash
64MP + 2MP Depth Sensor Rear Camera
Single LED Flash
8MP Font Camera
Fill Light via Camera Ap
Here are the sample Photos and Videos. Will let you decide which device has better results.
Video Capability
The Infinix Hot 30 can shoot up to 2k@30fps, while the realme C55 can only go up to 1080p@60fps. Both are stocked with a variety of camera features, including basic portrait, video, and night modes.
Audio
The Infinix Hot 30 offers stereo speakers and an equalizer in the sound settings, whereas the realme C55 has only a mono speaker. Both are loud and clear.
Performance
Both smartphones deliver a smooth user experience, especially in gaming. The 90Hz refresh rate in both devices adds to the appeal. In our testing, neither showed significant lag or delays.
Overall synthetic benchmark results showed realme C55 higher numbers.
Benchmark Tools
Infinix Hot 30
realme C55
Antutu Benchmark
273,982
280,203
GeekBench 6
Single Core – 430
Multi Core – 1,337
Single Core – 436
Multi Core – 1,434
3DMark Wild Life
756
748
PCMark Work 3.0
7,886
8531
Special Features
The Infinix Hot 30 surprises with NFC and the ability to record audio calls, features the realme C55 doesn't include.
Battery
In the battle of battery life, the Infinix Hot 30 boasts a 6,000mAh battery but only with 18W charging.
The realme C55, on the other hand, has a 5,000mAh battery coupled with Super VOOC 33W charging, making it slightly faster to recharge.
UI/UX
The Infinix features the XOS 12 interface, while the realme comes with realme UI 4.0. while it really boils down to preference when it comes to UI both of them have unique features and capabilities
Here are some of the notable special features for both devices.
Infinix Hot 30 Features
realme C55 Features
Lightning multi window
Memfusion
Smart panel
Social turbo
Game mode
Xclone
Video assistant
Kids mode
Gesture
Peek proof
Split screen
Flexible windows
Smart sidebar
Kid space
Simple mode
gesture
Pricing
Price is often a decisive factor, and here the Infinix Hot 30 starts at 6,999 pesos for the 8GB+256GB variant, while the realme C55 is priced at 10,999 for the same configuration.
Conclusion
The competition between the Infinix Hot 30 and realme C55 is fierce, with both devices offering enticing features. But the Infinix Hot 30 emerges as the winner in the value-for-money category.
With its competitive pricing and comprehensive feature set, it's a compelling choice.
The decision, of course, boils down to personal preferences and specific needs.
Whether you're swayed by the Infinix Hot 30's additional features or the realme C55's faster charging, your individual requirements will guide your choice.
Feel free to share your thoughts, and if you've had hands-on experience with either of these phones, we'd love to hear from you!