I've spent almost two weeks with the Realme C3 and I'm so excited to share my review with everyone! Before you read this review, check out my Unboxing and First Impressions post: https://digitalreg.net/first-look-realme-c3-unboxing-first-impressions-antutu-benchmark-photo-samples/ .
REALME C3 SPECS:
| OS: | Android 10 with Realme UI |
| --- | --- |
| Processor: | 2.0 GHz MediaTek MT6768 Helio G70 Octa-Core processor | MALI G52 |
| Display: | 720 x 1600 6.52" HD+ IPS LCD Display with Corning Gorilla Glass 3 |
| Wireless Connections: | LTE-A, Bluetooth 5.0, WiFi 802.11 b/g/n, A-GPS, GLONASS |
| Memory: | 32 GB Internal Storage expandable up to 256GB MicroSD Card, 3 GB RAM |
| Connectors: | Micro USB 2.0, OTG Support |
| Cameras: | 12 Megapixels f/1.8 + 2 Megapixels f/2.4 + 2 Megapixels f/2.4 (Main Cameras), 5 Megapixels (Front) |
| SIM Card Slots: | 2x Nano SIM Cards required |
| Battery: | 5,000 mAh |
| SRP: | P5,990 |
THE LOOKS AND FEEL: REALME C3 REVIEW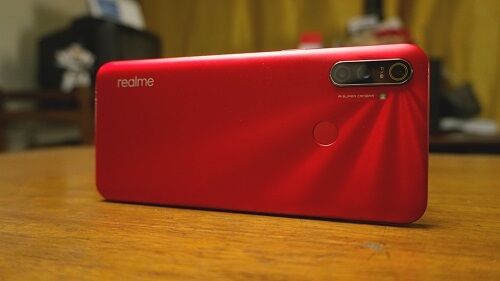 Realme keeps on improving the appearances of their phones. I've seen those improvements from the Realme C1 to the C2, and now the C3 ups the ante in this area even more. Thanks to its Sunrise Design, its premium presence is a departure from the usual boring, cheap designs of its competitors in the entry-level smartphone segment. It's also fingerprint-resistant as well as splash resistant so you wouldn't have to worry about accidental spills from drinks.
The C3's size has been increased and can be mistaken as a Realme 5i. I really loved holding the 5i so the same could be said with the C3. Its mirror-polished case, aside from being an anti-smudge magnet, also prevents the C3 from slipping off one's sweaty hands. It also prevents the phone from slipping off a table, a common issue I have with the glossy phones of today.
I love showing off the C3's Blazing Red color. The rays found at the back symbolizes Realme's bright, youthful positive aura. It looks unique and chic, and keeps on receiving glances from people who see me use the phone. I can say that the C3 is the Best-Looking phone in this price-segment.
THE DISPLAY: REALME C3 REVIEW
Realme upgraded the their entry-level phone's display from the C2's 6.1″ to 6.5″. Resolution is also updated to 720×1600, though one could hardly see the difference. It still uses IPS display technology and coated with Corning Gorilla Glass 3. Since I spend a lot of time watching streaming videos on Netflix and YouTube, having a larger 6.5″ screen on the C3 is a godsend!
The Mini-Drop makes the notch smaller by 30.9% compared to a normal drewdrop notch. This gives users of the C3 more screen real estate and less of the notch's annoyance.
A slight issue I encountered here is the sensitivity of the side of the screen. Whenever I hold the phone in landscape mode to watch a video, the phone kept on going fast forward or reverse.
THE PERFORMANCE: REALME C3 REVIEW
What I considered the biggest upgrade for the Realme C3 is its processor. MediaTek's MT6768 Helio G70 is a new chipset from the Taiwanese company and the C3 is the first phone in the world to use it. Benchmark scores of the Helio G70 are very impressive! In Antutu, it scored 178,358, a 100% improvement over the C2's Helio P22 which scored 77,613. In PCMark, the C3 got 8,618 over the C2's 5,160! Unbelievable!
The Helio G70 processor is optimized for gaming, hence, the C3 even with its low-price point can be used as a gaming phone. I played Asphalt 9, Call of Duty Mobile, Marvel Super War, and NBA2K20 all in their highest video settings. Even with the very high benchmark scores, I was still a bit skeptical if the C3 could handle all these games at these settings. I am glad to know that it didn't disappoint! These games played flawlessly as if I'm playing on a mid-range phone! I played for hours and I did not experience any stuttering. Heat is also manageable even with an hour of gameplay.
It would've been perfect as a gaming phone if it were not for the memory. The C3 comes with 32GB of storage and 3GB of RAM, which I find acceptable at first. However, since I have this habit of leaving apps open as a result of using phones with bigger RAM, games tend to crash while other apps are open. This can be remedied by making sure that apps are always closed before gaming.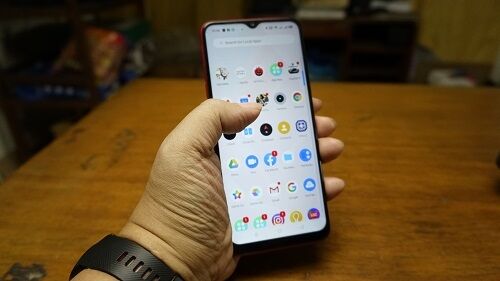 Realme UI makes its introduction in the C3. It is based on ColorOS 7 so the interface would look familiar if you have used a Realme phone before. The app drawer is still there but the arrangement of the apps are no longer in alphabetical order, unlike in the C2.
The Smart Bar is very useful for multi-tasking within the same window. It's my favorite feature of the RealmeUI/ColorOS as I'm able to do another task while watching a video.
Realme UI's Game Space lets me play my games in peace. I hate being interrupted by any phone calls while playing, especially those nuisance messaging on FB Chat groups. Game Space lets me control incoming calls, messaging and other notifications.
THE CAMERA: REALME C3 REVIEW
As of this moment, the Realme C3 is the only phone in this price range to have three cameras. It is composed of a 12 Megapixels main camera, 2 Megapixels for Portrait and 2 Megapixels for Macro. What's missing here is a wide-angle camera, but I am not going to take that against Realme. The 5i already has that, which is a higher price segment. Here are some sample photos:
Photos taken under natural light produced good colors and sufficient amount of sharpness. As always, low light conditions were challenging for the cameras. It still doesn't have night mode and I had to use Chroma Boost to make the photos better. Having said these, I still think the C3's cameras are better than the C2 when it comes to low light. Having a main camera with a lower aperture at f/1.8 somehow helped in taking night photos.
Selfies looked natural when AI is turned off. I know AI can help make me look better, but it doesn't look natural at all.
THE BATTERY: REALME C3 REVIEW
The battery life of the Realme C3 has been increased to 5,000 mAh. With my average use of 4 hours of video streaming, 2 hours of mobile games, and the usual fiddling of the phone, I still end up with 50% after being unplugged for 18 hours in a day! Very impressive battery life. There were also a couple of times that my C3 reached at the end of the second day.
DR'S CONCLUSION
Using the Realme C3 for two weeks made me wonder if I could give up using high-end phones and settle for this type of entry-level phone. With that in mind, the C3 has definitely redefined how an entry-level phone should be.
PROS:
Sunrise Design
Large 6.5″ screen display
Impressive Gaming Performance
Decent Camera
Long Battery Life
CONS:
Side of the screen is touch sensitive
No Night Mode Photography